Listen, 2020 was not easy on anyone. But through the tragedies, uncertainty, and upheaval to just about every aspect of normal life, there were some major positive changes that will have long-lasting effects on how we work, learn, and build community, especially in the Salesforce ecosystem. 
2020 forced three major shifts
With the pandemic forcing everyone to social distance and avoid coming into crowded offices, we (both workers and companies) had to learn how to work remotely overnight. This was a change that had been happening slowly for the past 10 years but could have taken a generation to fully take hold as deeply as it has. Now many of us could never imagine going back to the "old" way.
The economic fallout from the pandemic also forced many companies to reduce headcount, placing them into an adapt or die situation. Unfortunately, the rapid pace of change and the impact of the virus was too much for some businesses, especially in hard-hit industries. Those who survived were faced with the daunting task of keeping the lights on with fewer people and rapidly evolving their business models and operations to meet the changes brought on by the COVID economy. In many aspects, Salesforce was the answer, and the projects and digital transformation initiatives slated for the future were accelerated to meet the challenge, enabling more businesses to not only survive but thrive.
While technology companies and many tech workers benefited from this digital acceleration, many others didn't. The downsizing precipitated massive job loss across the world, hitting almost every industry and touching many families. But in looking for a silver lining, it was just the nudge needed for many knowledge workers to enter the freelance and independent economy. And for those who had always dreamed about working in tech, nonprofits like PepUp Tech launched free programs for displaced workers to get them the training and placements they needed to start new careers.
All three of these major shifts – the prevalence of remote work, the evolution of business models, and the rise in freelance talent — have upended many traditional paradigms, and with change, there is always opportunity.
These changes fell right in line with what we're building at 10K – a fully remote and distributed community of highly skilled independent Salesforce experts helping companies execute their digital transformation programs rapidly and on-demand.
We knew this model would become mainstream someday, but we never imagined it would happen this rapidly and amongst a global pandemic.
How will 2021 be different?
We're entering 2021 riding this tidal wave of change, working to help our customers and experts capitalize on the opportunities these changes have brought about. 
Many Salesforce customers are changing what they are looking for in a Salesforce partner. Instead of long scoping processes and contract negotiations, customers are looking to extend their teams flexibly and rapidly. We're answering that call by continuing to automate and streamline as many of our customer operations as possible, making it easier and faster than ever for those searching for experienced Salesforce talent to get the help they need, when they need it. 
Salesforce customers are also looking for skilled talent in smaller, bite-sized chunks as a way to reimagine new ways of doing things and also unblock stuck initiatives without lots of overhead and long-term commitments. We've built 10K Task to help customers more effectively do the same things we're doing ourselves – work through the smaller but necessary changes that can have a large impact on making your users happier and more efficient.
In addition, seasoned Salesforce experts are looking for a wider variety of challenges that help them grow, but also allow them the flexibility to work when, how, and where they want. 
The number of independent experts and small Salesforce partners has grown rapidly over the past year, leading to a Salesforce talent ecosystem that is more dispersed and harder to navigate than ever before. This perfectly fits our vision of creating a community of the world's top Salesforce talent who, while independent in their own right, can come together to meet the challenges of a rapidly evolving customer base.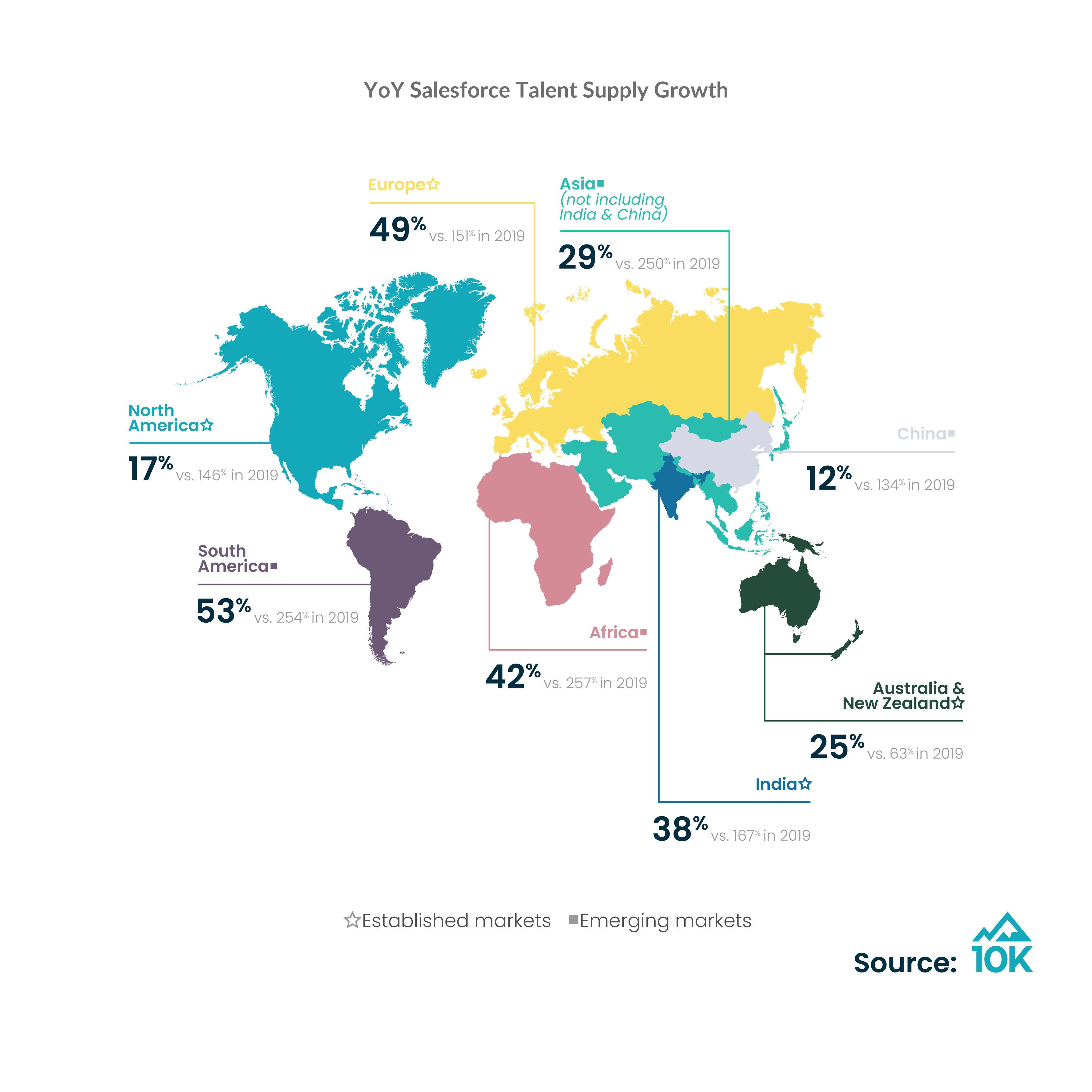 Why we feel ready for this moment 
At 10K, we're combining our deep experience in finding and vetting talent, managing complex customer programs, and building innovative technology to close the gap between evolving customer needs and the desires of world-class talent. This year we're not only working to improve our existing expert and customer experiences, but we're also opening up completely new and innovative technology-enabled models that will change the way you think about doing work (and getting work done) on the Salesforce platform. 
We will also continue to build on the research and thought leadership our team has put together over the past few years (such as our 2020 Salesforce Talent Ecosystem Report, Salesforce Operational Excellence Handbook, and Salesforce Project to Program Research), research that our customers, partners, and experts have come to depend on to plan for the future and improve their long term success with the Salesforce platform. 
While there is a lot to focus on in 2021, we're not stopping our forward march of services innovation. We're thinking far beyond this year to what work, and particularly Salesforce consulting, will be like 5-10 years from now. If you think back to 10 years ago and know that the pace of innovation will only continue to increase in the future, you can start to envision the massive change that we'll all undertake in the years to come. Which roles will become more important? Which roles might be automated away? How will customers want to use Salesforce experts as they reach a later stage of platform maturity? 
10K strives to be on the forefront and always be leading the charge to create better and more equitable ways for people to do the work they love. We hope that you'll join us on this mission – as a 10K expert or by working with one – as we create the future, together.