70% of US tech workers say they're considering quitting their job this year. 
About four in ten of those surveyed cited limited career progression as a reason to leave. Other common reasons included non-flexible working hours, feeling underappreciated, and toxic work environments. 
Talent management is facing a new era of complex, humanistic challenges. Tech workers are saying, "I'm done" with unfulfilling careers and excessive stress. And can you blame them? The pandemic taught us that time is incredibly precious, hence the latest workforce shift – the "Great Reshuffle." 
Full-time Salesforce experts know demand is hot and talent supply is tight. Many are capitalizing on that momentum to go independent with their consulting career. 
I've recently spoken with some newly independent Salesforce consultants. For most, the move to entrepreneurship was a calculated risk (look no further than 2021's triple-digit explosion of talent demand). The way they see it, trading a corporate security net for true freedom was a bet worth taking. 
Why customers need to get agile in the search for Salesforce talent
The demand for Salesforce talent isn't slowing down. At the same time, exceptional Salesforce talent that went independent has no intention of going back to full-time work.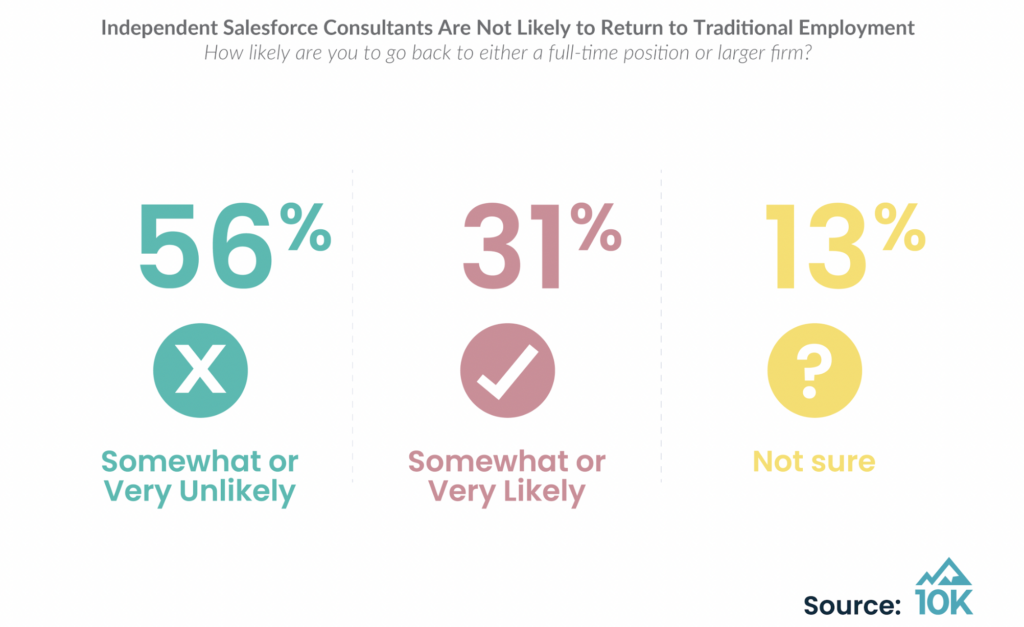 Salesforce is a rapidly evolving and complex system. To make it sing, customers will need to augment their teams and partner with the growing pool of independent Salesforce experts. The good news is that elevating your Salesforce recruiting strategy to include independent consultants is a win-win scenario:
Bring in niche skills for specialized projects 

Gain flexibility to scale up or down as needed to meet deadlines and expand bandwidth 

Save dollars on recruiting and hiring costs

Engage with highly motivated and experienced Salesforce experts who are invested in their customers' success
Read on for some pointers on attracting, engaging, and partnering with independent consultants. 
Break your Salesforce projects into sprints for efficiency and flexibility
Bring in the right talent resources at the right time.
Is your internal Salesforce team stretched too thin? Or do you need a specialized skill set for an upcoming implementation project? The beauty of working with independents is they're available in a fractional capacity, ready to scale up or down based on your needs. Organizing your Salesforce projects in sprints will allow you to identify where you need extra support and when. 
Another major benefit of partnering with independent consultants is they're able to get started faster and you only pay for the hours you use. While you may find that hourly rates for independent consultants can vary across a wide range, their value comes down to far more than rates. It's about finding the talent you can trust, who will be there when you need them, and without the overhead of a large consultancy or a drawn-out, expensive recruiting process. 
All of this leads to faster results, more productive teams, and a better return on your Salesforce investment.
Give independent consultants an option to apply 
Once you've determined where independent consultants can fill in the gaps of your Salesforce team, look closely at your job listings and job descriptions. Include keywords that search filters will make applicable for independent consultants. 
As mentioned, organizing your Salesforce initiatives into sprints will help you create project-based opportunities for independent consultants. Make sure your job postings – whether it's with LinkedIn, Indeed, etc – use language that caters to project-based opportunities. 
Most employers are only sourcing and hiring for full-time talent. Building out strategies to hire project-based workers will take some leg work, but having the right processes in place to work with independents – relationship management, contracts, payment, etc –  will help you partner with the talent you need to keep projects moving. 
Simplify how you engage with independent consultants 
Onboarding an independent consultant doesn't have to be complicated. If you make their barrier to entry as simple as possible, you'll get work started faster and set up the foundation for a healthy partnership for future projects. 
Good independents are in-demand and entertaining multiple project opportunities. Your engagement process needs to be efficient and streamlined. Winded interview processes, complicated contracts, and other red tape will encourage independents to choose another customer's project over yours. 
The skills vetting process is, of course, still incredibly important. An on-demand talent broker like 10K can connect you with proven talent who's ready to jump on a project in less than a week. They will also shoulder the most time-consuming burdens – sourcing, vetting, managing, billing, etc. – so everyone can get down to the work that really matters. 
Closing thoughts for talent management leaders
A one-size-fits-all approach to recruiting and hiring Salesforce talent won't cut it anymore. The independent workforce is growing; they're also here to stay. Shifting the mindset of your hiring teams will be key to keeping pace with the rapidly evolving Salesforce talent landscape.  
10K resources to help you partner with independent Salesforce consultants 
On-Demand Salesforce Talent Guide
​​3 Essential Questions for Vetting a Salesforce Consultant's Soft Skills
3 Bite-Sized Salesforce Tasks You Can Get Off Your Plate Today