The way we look at work has changed dramatically over the past decade, and that change has accelerated since the spring of 2020.  
Major global challenges gave the world pause, and for many, a time to reflect on what is most important. With far-reaching circumstances outside our control, many of us faced the blunt reality of how quickly life can change.
Life is too short to spend the majority of it doing work that's too stressful, doesn't respect you, or makes you feel good. 
Cue up the "Great Resignation" and what some are now calling the "Great Reshuffle." Workers continue to walk away from the jobs and companies that don't provide the flexibility they deserve, and many are embarking on an entirely different journey – entrepreneurship. 
Download the 2022 Independent Salesforce Consultant Report to see this year's top findings.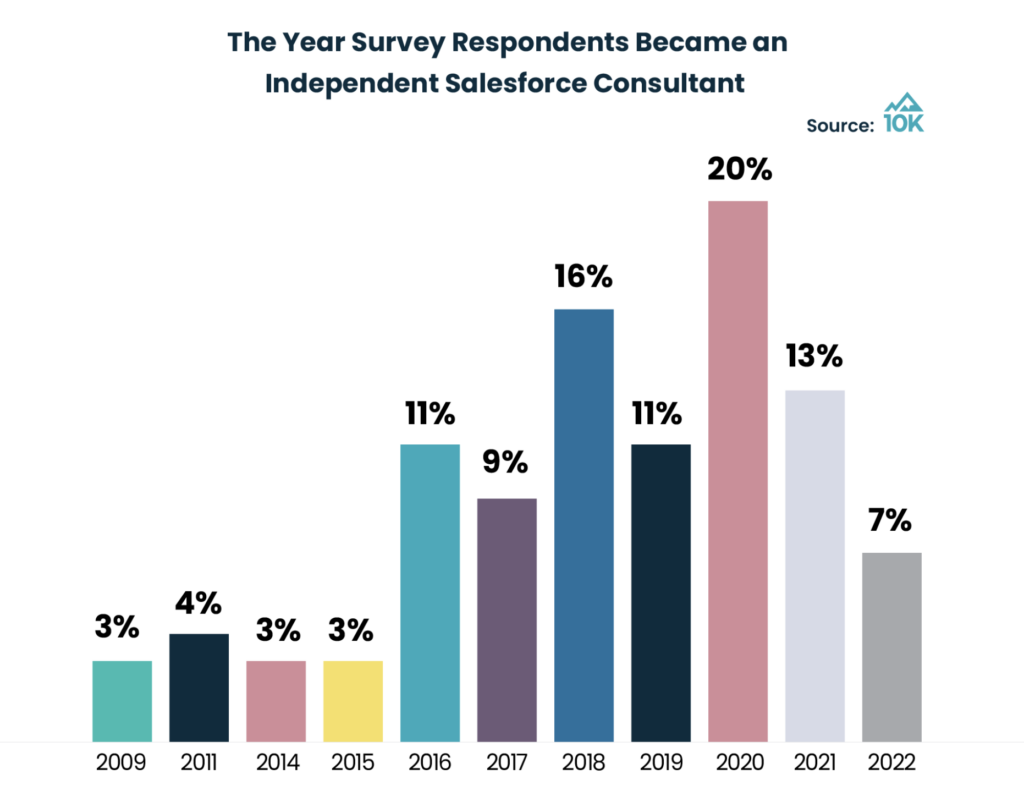 The Salesforce ecosystem is vibrant and lucrative, where people of all skill levels and backgrounds can find and fall in love with new tech careers. This is in part thanks to Trailhead democratizing ongoing education in a way that no other major tech company can compare. The opportunity to learn new skills and meet customer demand has paved the way for Salesforce talent, new and seasoned, to advance their careers in the ecosystem. 
This is important because the customer demand for Salesforce expertise is skyrocketing. So much so that an impressive 40% of independent Salesforce consultants started their own business during the pandemic between 2020 and 2022. As a Salesforce partner and advocate for Salesforce talent, it's encouraging to see more and more Salesforce experts capitalize on the opportunity to bet on themselves. 
An impressive 40% of independent Salesforce consultants started their own business during the pandemic between 2020 and 2022.
Our 2020 Salesforce Talent Ecosystem Report marked the first time we surveyed and presented research on independent Salesforce consultants. Now, we are proud to present the first report entirely dedicated to the growing population of independent Salesforce talent. 
Our goal is to shine a spotlight on who these experts are, what they value, and where they need support. We have a strong sense of duty to create awareness for independents and connect them with the customers who need them. 
Building your own business is far from easy. It takes guts. And more than that, it takes trust. I've had the privilege of working with some of the Salesforce ecosystem's brightest independent consultants, from architects to developers, integration specialists, and more. They are a highly-motivated breed of talent with the courage to be their own boss. They are also some of the most experienced, skilled, and engaged Salesforce professionals around, demonstrating a genuine commitment to solving complex customer challenges and building solutions for real impact. 
We invite you to become more familiar with the Trailblazers and innovators shaping the future of the Salesforce consulting ecosystem. They are the force that will continue to take the Salesforce ecosystem to new heights for years to come.