Talks of an impending global recession and subsequent rounds of layoffs are gaining traction. The headlines are everywhere. While there are plenty of predictions, headlines, and advice being offered to prepare for what a recession may look like, it's important for workers to take stock of where they stand. The good news is that the Salesforce talent ecosystem is well-positioned to weather a potential storm.
For Salesforce customers, now is the time to strategize on how to move forward in a cost-effective way without compromising your investment or growth. If you're a Salesforce expert currently sitting in a full-time position, you might consider looking into entrepreneurship and branching out on your own. And if you're an independent consultant, you can view these tumultuous times as an opportunity. Here are a few reasons: 
The Salesforce Ecosystem is Healthy and Growing 
Layoffs have already started happening at tech giants like Netflix, Robinhood, and Better – and it doesn't stop there. As of July, more than 28,000 workers in the U.S. tech sector have been laid off in mass job cuts, as reported by Crunchbase. But Salesforce isn't your average tech giant, with their ability to continuously innovate their products, win new customers while retaining existing ones, and beat out their competitors.
In the last 23 years, Salesforce has not only survived the three biggest financial downturns in recent history, but they've also grown its market share across all of its product categories despite them. In the CRM category alone, they own nearly 24% of the market. 
The force of Salesforce's skyward trajectory is also evident in the products and partner companies that are established exclusively to serve the platform. Blackthorn, Gearset, and Qualified – three products built for Salesforce – have raised $16 million, $55 million, and $95 million respectively, just in the last couple of months. Additionally, the Salesforce partner ecosystem continues to grow year over year – +14% in 2021 according to our annual Salesforce Talent Ecosystem Report.
The proof is in the numbers – investors, companies, start-ups, and talent continue to bet on the success of Salesforce.  
Customers Learned Big Lessons From the Pandemic 
Digital transformation is more than a buzzword. It's an effective driver for cost savings and a necessity that every active Salesforce customer will lean into during the tough economic times ahead. 
According to 10K's Chief Talent Officer, Kristin Langlois, "I think it's unlikely we'll see an influx of net-new Salesforce customers, but those already invested have one choice. The money has been spent, and the work still needs to be done." 
That said, more companies may act on budget cuts in the way of layoffs or hiring freezes. This will be an interesting trend to watch because many companies have learned important lessons about talent management and retention efforts in the wake of the Great Resignation and Great Reshuffle. Instead, a "cooling off period" could take the place of massive layoffs. 
No matter how it shakes out, there will inevitably be talent gaps and demand for project-based workers to fill them. That's where independent Salesforce consultants can seamlessly step in. They are the ideal talent solution to address this unique moment. 
What a Recession Could Mean for Salesforce Talent in Traditional, Full-Time Roles 
For Salesforce experts working in traditional, full-time roles, the time to explore entrepreneurship is now. It's all about freedom and building a business that serves specific passions, needs, and goals. 
We can't claim independents are totally insulated from the effects of a recession. They might just face a different set of challenges – less luxury of choice in project work, longer hours, etc.. However, one thing independents won't have to worry about is waking up on a normal Tuesday and getting laid off. Independents control their own destiny; they're not at the mercy of a CEO's whims. 
Recession or not, going independent in the Salesforce ecosystem is a solid bet to make. Experts taking the leap from full-time jobs to independent consulting is a trend we've been watching closely for the past few years. Our recent 2022 Independent Salesforce Consultant Report found an impressive 40% of independent Salesforce consultants started their own business during the pandemic between 2020 and 2022. 
The benefits of the independent lifestyle are real-game changers. They're also reliable, especially as customer demand continues to grow.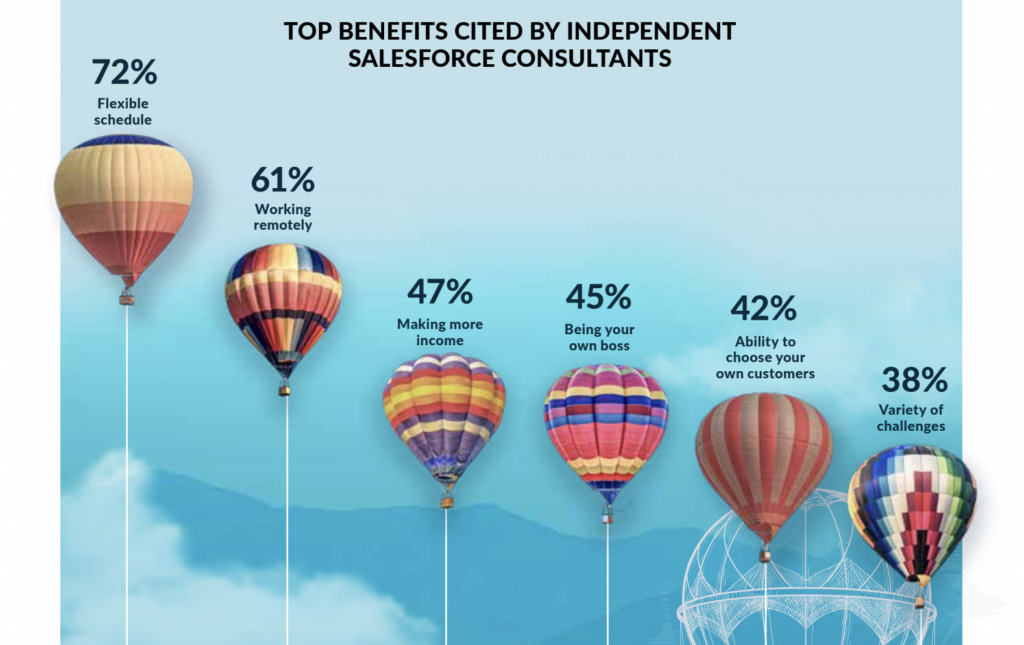 Salesforce customers recognize independent consultants are a cost-effective talent source. We're confident that any hiring manager who isn't catering to independents in their talent strategy today will be singing a different tune in the months to come. It will be interesting to see how Salesforce talent demand trends evolve in response to a recession.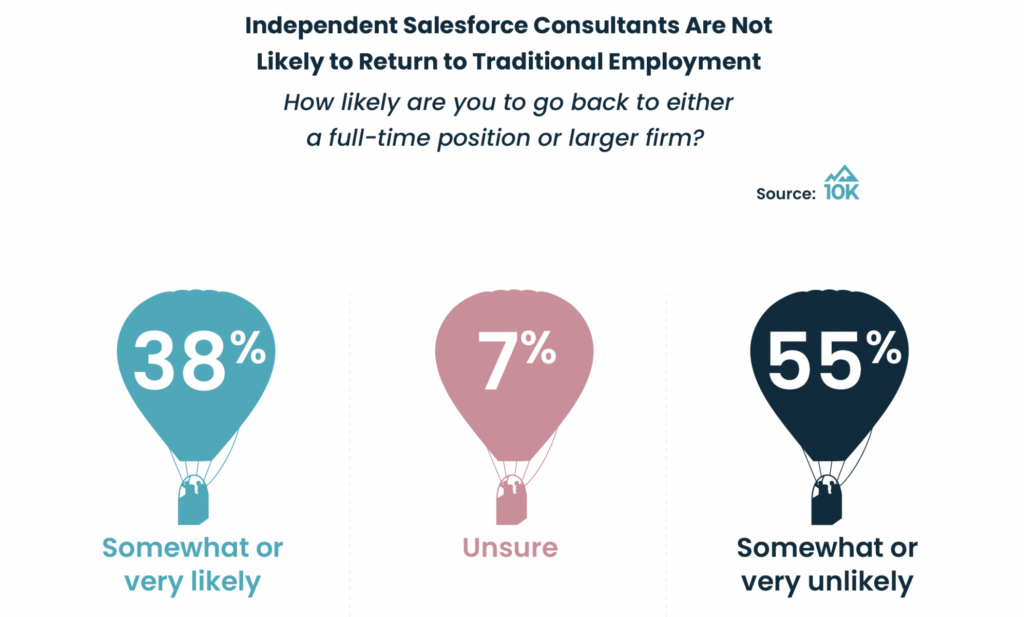 Independent consulting is not a fad – more than half of independents say they are unlikely to return to traditional full-time employment. And who can blame them? 
Whether you're an independent consultant looking for work, a full-time employee looking to make the transition, or need specialized talent to fill in the gaps during these tough and uncertain times, 10K is here to help get the job done.