For the last six years, our team has studied Salesforce talent supply and demand trends that can help customers, hiring managers, and experts alike better understand the ever-evolving ecosystem and where it's headed. This year, we uncovered compelling evidence that many Salesforce customers chose to rely heavily on Developer talent while deprioritizing Architect talent. Unfortunately, these trends may indicate that Salesforce customers are actively (or running the risk of) incurring costly technical debt. 
In this article, we'll share what this year's data shows about the demand for Salesforce Developers versus the demand for Technical and Solution Architects, and how the shift in priorities could result in excessive technical debt down the road. 
Demand for Salesforce Architects decreased the most across all roles in 2023 
While demand for Salesforce talent was down across all roles this year, demand for Solution Architects and Technical Architects declined the most. Demand for Technical Architects was down 55% YoY, followed closely by Solution Architect demand, down 54% YoY.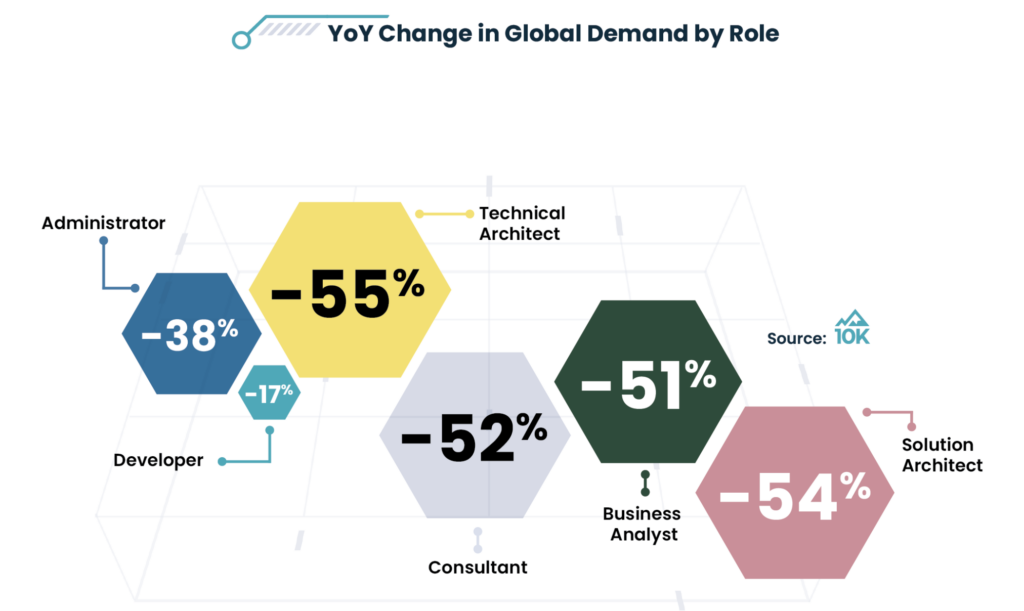 Why are organizations relying less on Salesforce Architects?
There are a few potential reasons why demand for Architects went down this year. Salesforce Architect roles are highly specialized and sometimes hard to fill—they're also not cheap. With the economic factors at play this year (e.g., inflation, rising interest rates, layoffs, budget cuts, etc.), many organizations have had to scale back hiring and tighten their budgets.
It makes sense that Architect demand would decrease so drastically. According to the latest research from Mason Frank, Technical Architects are the highest-paid (non-executive) Salesforce professionals in the United States. Orgs on a tight budget may find it harder to justify bringing an architect onto their team. 
It's also possible that the dip in demand for Architects could be partly due to the fact that hiring (and retaining) a full-time Salesforce Architect is like finding a needle in a haystack. While Solution Architect and Technical Architect supply actually increased this year, each role still makes up just 1% of all Salesforce talent. Architect scarcity may have led many customers to seek out Developers to tackle their projects. 
Demand for Salesforce Developers slowed the least across all roles
Salesforce Developers are essential to deploying new solutions, designing custom apps, making critical updates, tackling technical integrations, and more. According to Salesforce, the role's prominence continues to grow, with the number of new Developer positions increasing by an average of 165% year-over-year for the past five years. 
This year, demand for Salesforce talent slowed across all roles and markets. However, Developer demand slowed the least, down just 17% YoY. (In North America, demand for Developers actually increased by 23% YoY.) The role made up 26% of all job listings this year, a 9% YoY increase in overall share of demand.
So, across all roles, demand for Architects is down the most, while demand for Developers is down the least. What does that tell us? It seems that many Salesforce customers are opting for roles with more affordable rates to get technical work done. Choosing the easiest and fastest solution instead of the best solution can have short-term benefits, but, in the long run, you may incur more costs and spend more time maintaining or enhancing that quick, easy solution.
Salesforce Development without architecture creates excessive technical debt
Development without the oversight of an experienced Architect can lead to structural problems in your Salesforce org. As your tech stack grows in size and complexity, you may begin to experience buggy code, poor design, architectural inconsistencies, or inefficient deployments. (It's like building a house without blueprints and then finding that the walls don't match up in the end.)
Development without the oversight of an experienced Architect can lead to structural problems in your Salesforce org.
Even though Architect talent typically comes at a higher cost than other Salesforce roles, they are rarely needed in a full-time capacity and the long-term value they provide almost always justifies the investment. In fact, our research into Salesforce operational excellence shows that leveraging an Architect can significantly improve your Salesforce ROI. 
Reduce technical debt with an on-demand architect 
Technical and Solution Architects design solutions that ensure Salesforce customers are efficiently and effectively utilizing Salesforce. They're experts in functionality and integrations and understand how the technology impacts business processes and procedures. They can also communicate highly technical concepts in a way all stakeholders can understand.
If the salary requirements or frustration of finding a full-time Architect has hindered you in the past, consider leveraging independent consultants who work on demand. 
As Mike Martin, 10K's Chief Customer Officer, recently shared about the benefits of on-demand Architect talent: "The good news is most customers don't have a real need to hire a full-time Salesforce Architect—hence the beauty of using an on-demand talent marketplace. On-demand architects should be hired at the onset of an engagement to ensure the right decisions are made in a fractional capacity throughout the project." 
Connect with a 10K Technical Architect on-demand >
Learn more about the latest Salesforce talent trends 
We're excited to announce our 6th annual 2023 Salesforce Talent Ecosystem Report. Every year before Dreamforce, our team looks forward to pouring over the latest supply and demand data from the Salesforce talent ecosystem and compiling our findings to help you make more strategic decisions for your Salesforce talent needs. 
In the report, you'll learn about the talent trends we uncovered by role and region, changes in the sprawling partner landscape, and insights from industry experts. We also dive into the growing influence of AI technologies and how they will impact Salesforce talent in the years to come.