Our fifth annual Salesforce Talent Ecosystem Report confirmed what everyone already knew: Salesforce is enjoying another winning year. 
Data shows the ecosystem is still on a healthy growth trajectory, all despite mounting speculation of an impending recession in the United States and tumultuous global macroeconomic trends. In fact, global talent demand grew 19% in 2022; a reflection of Salesforce's projected $31B in revenue for 2023. 
Year-over-year, Salesforce's increasing customer demand raises the ceiling for its talent and partners. Experienced Administrators, Developers, Business Analysts, Consultants, and Technical and Solution Architects are seizing the moment to level up their careers by specializing in specific clouds and industries. Aspiring Salesforce professionals continue to get educated, get certified, and take aim to break into the ecosystem. 
Additionally, each year we also see the merging and creation of new Salesforce partners to cater to evolving customer needs. Everyone is riding the digital transformation wave because it's a matter of sink or swim, and Salesforce is helping companies survive and thrive in our rapidly changing economic environment. 
Our research this year has proven, once again, that it's a great time to have a career in the Salesforce ecosystem. 
We won't claim to be able to predict the future of how our ecosystem will evolve, but given 10K's relationships with seasoned experts, customers, and partners of every size across the globe, our team does have a few ideas of how this year's top findings will play out. 
Nick Hamm, Chief Executive Officer
Nick's 2022 Key Takeaway: India's talent growth is continuing to outpace North America
North America and India hold the two largest concentrations of Salesforce talent, with North America's talent population being about 40% larger than India. However, as growth rates in North America continue to slow, the same trend is not holding in India. 
It's entirely possible that by 2025, India's talent population will be at least as large or larger than North America.
It's entirely possible that by 2025, India's talent population will be at least as large or larger than North America. This will establish India as a formidable contender that can't be ignored by any Salesforce customer or partner looking to scale their teams.
Matt Gvazdinskas, Chief Strategy Officer
Matt's 2022 Key Takeaway: Despite the top five partners growing their total certified talent by a combined 31% YoY, their share of overall certified talent over the last five years has dropped 7%.
This trend will continue and we will see more experts specialize and migrate to smaller partners. I think this finding also proves two things: customers see the value in working with smaller, specialized partners and experts desire to work with smaller teams where they can make an impact and build relationships. 
Customers seem more comfortable now than ever relying on small businesses to support their important investment in Salesforce because these small firms have attracted such incredible talent in today's modern work environment. It really is a great time to have an entrepreneurial spirit in this ecosystem.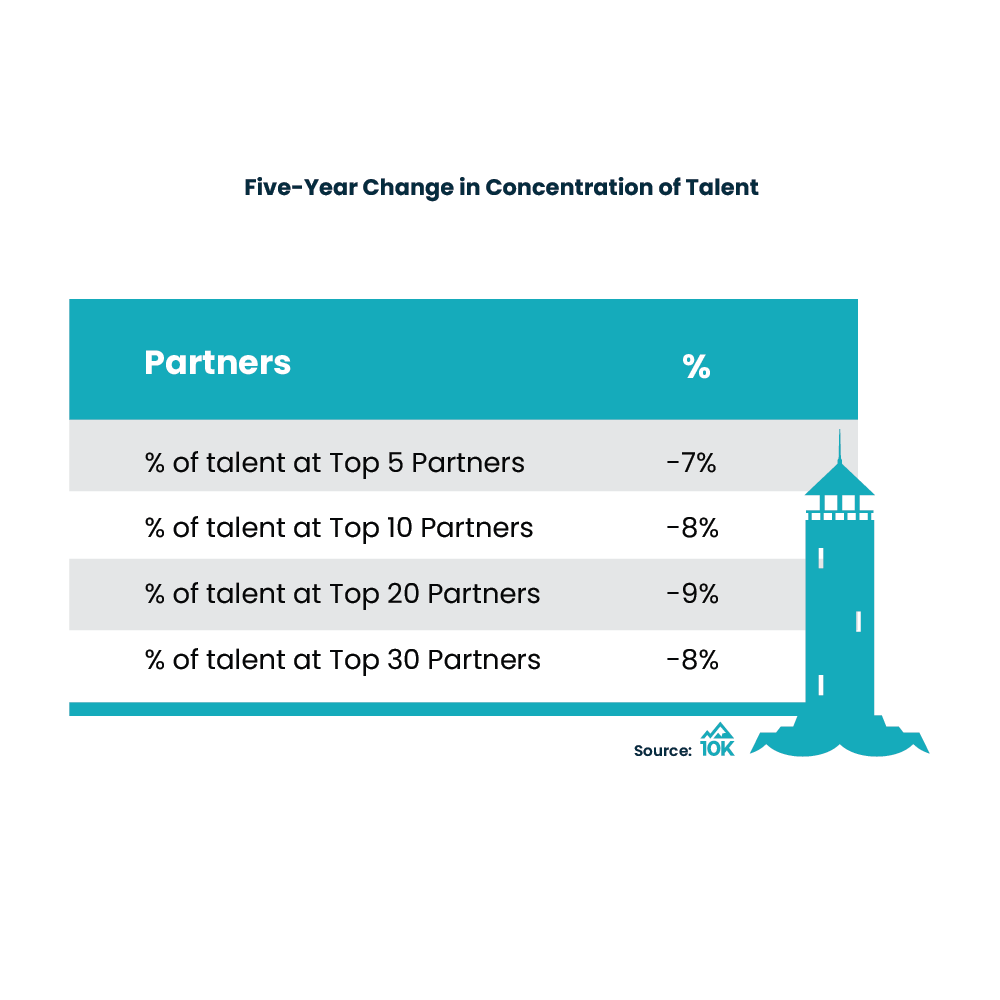 Mike Martin, Chief Customer Officer
Mike's 2022 Key Takeaway: Despite talks of a global recession, this year saw a 19% increase in global talent demand.
Additionally, established markets saw demand grow by 17% and emerging markets saw a 45% increase. There have been many macroeconomic forces at play over the past year, including a looming recession. 
Customers are tightening budgets and searching for efficiencies – and that's where further investments in digital transformation initiatives (AKA, Salesforce products) will come into play. It's the key to process improvements and efficiency gains. From 10K's side of things, we continue to see strong demand for Salesforce experts across both our direct customers and partner customer base. Our team expects customer demand to grow well into 2023.  
Jared Miller, Chief Operating Officer
Jared's 2022 Key Takeaway: For the second year in a row, South America was the fastest growing emerging market at 15% YoY.
Over the past year, we have noticed an increased appetite from our clients to explore South America for talent. Not only that, but we are also seeing many experienced architects and developers in the early stages of building their own companies to capitalize on the talent emerging there. While timezone compatibility will remain a huge driving factor, the current talent and training that is taking place will continue to support and increase their growth for the foreseeable future. Everyone needs to keep their eyes on South America's growth. 
Everyone needs to keep their eyes on South America's growth. 
Kristin Langlois, Chief Talent Officer
Kristin's 2022 Key Takeaway: Administrator supply decreased by 20% in established markets and 16% in emerging markets.
With the largest share of talent, the surprising drop in Salesforce Administrators consequently drove the overall decrease in global talent supply. The decrease in Administrators is probably not a fluke. Despite incoming talent with their sights set on breaking into the Salesforce ecosystem, I predict we will continue to see the Administrator supply decrease. We will also see the supply of specialized roles, including Business Analysts and Consultants, increase.  
I could see Salesforce reexamining how to define an Administrator (seen here with their Admin Skills Kit). The current expectations of the Administrator role have evolved tremendously compared to the early years of Salesforce. Not only that, Administrators earn lower salaries compared to other more specialized roles; a recipe for inevitable burnout. This could lead to talent bypassing the Administrator route altogether and choosing Business Analyst, Consultant, or Solution Architect careers from the get-go. 
Customer demand continues to swell year over year. 
If you're a Salesforce expert with at least five years or more at full-time consulting gigs, there's never been a better time to go independent with the safe bet of being wildly successful. Especially if you hold specialized skills specific to product, industry, or large-scale implementations. Salesforce customers at large are looking for you and working with Salesforce talent platforms like 10K can connect you with the right ones while providing support for your independent business.