After six years of researching the supply and demand of Salesforce talent and the growing partner ecosystem, you would think we'd have seen it all by now. And yet, the ecosystem never ceases to throw surprises our way each and every year. From rising interest rates to tech sector layoffs to surging public interest in AI, 2023 has been anything but boring.
Thankfully, we saw talent supply bounce back this year. Global talent supply grew 28%, rebounding from flat growth in 2022. Most notably, Administrator supply returned to a healthy growth rate (28% YoY) after the role's first-ever decrease in supply. Unfortunately, but not surprisingly, this year saw a significant drop in global demand for talent at -46% YoY.
Download the 2023 Salesforce Talent Ecosystem Report
It's difficult to pinpoint an exact cause for any trend or abrupt change in the ecosystem because there are typcially many different factors at play. However, our team can't help but speculate how some of this year's trends will play out into 2024 and beyond. Read on for a few predictions for the Salesforce talent ecosystem from 10K's executive team. 
Matt Gvazdinskas, Chief Strategy Officer
Key Takeaway: Even with an impressive concentration of talent at the top of the partner ecosystem, the total number of Salesforce partners still grew 19% YoY, the highest growth rate since 2020 (29%). 
Prediction: We will continue to see growth at this pace (or higher) with the emergence of Artificial Intelligence.
There is certainly no shortage of partner options for customers to choose from, but this trend proves there is still a great opportunity for professional services organizations. I believe a great deal of this growth is fueled by specialization – practices that bring an industry or cloud-specific focus to the market – and predict that we'll continue to see growth at this pace (or higher) with the emergence of Artificial Intelligence. 
Customers are anxious to leverage AI to drive the efficiencies it promises, but they will rely heavily on partners to help securely implement solutions. This will lead to a great explosion in partner growth.
Kristin Langlois, Chief People Officer
Key Takeaway: Admin supply bounced back, but it's the role with the least job postings.
Prediction: We will see a shift in Admins specializing in specific clouds and skills as they no longer can do it all.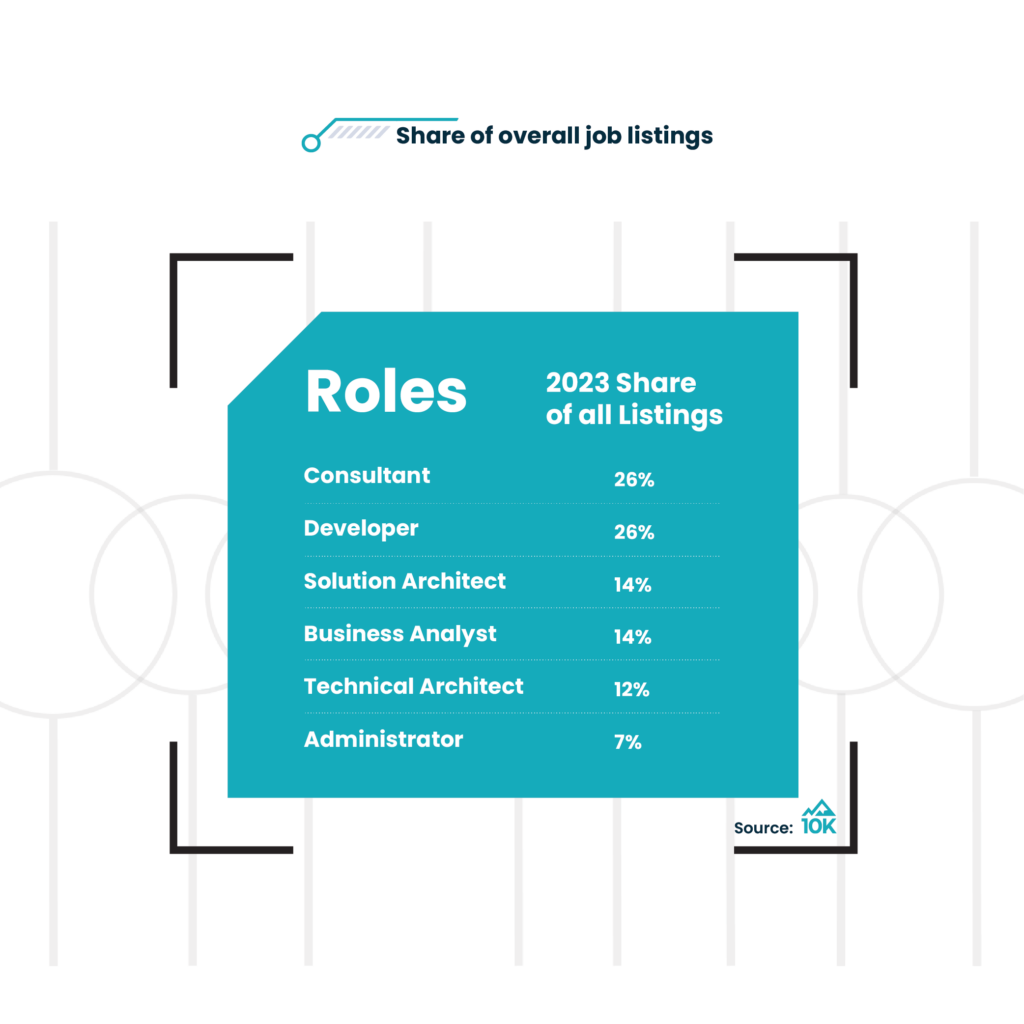 Even though the Supply of Admins increased this year by 28%, demand for Admins decreased by 38% globally and made up just 7% of all job listings (the lowest of all roles). On top of that, the Admin talent pool is flooded and companies continue to raise the bar on their expectations. I've come across countless job descriptions seeking at least 5 years of experience, and skill sets in multiple core clouds, apps, integrations, and specializations.
Admins will shift to specializing in specific clouds and skills as they no longer can do it all, especially as new certifications are being released (including the most recent AI Associate and Data Consultant). I predict we will also see specialization breakouts with segmented titles/roles such as Marketing Cloud Administrator or Data Cloud Administrator. For aspiring Salesforce talent, specialization will be key to breaking into the ecosystem and building a sustainable career.  
Jared Miller, Chief Operating Officer
Key Takeaway: India saw the highest supply growth of all established markets at 36% across all roles. 
Prediction: Salesforce-focused companies in India will continue to grow and heighten competition for both rate and talent. Here is how I see the top India-based companies making that happen: 
     1. Investment in career progression
India continues to invest in upskilling initiatives that will support top talent in a growing market and help build sustainable, long-term careers. Focusing on professional development opportunities for communication, technical, and managerial skills will be more impactful than simply increasing wages. 
     2. Increased focus on leadership skills and specialized roles 
To be seen as more than a Developer shop, India-based companies need specialized talent (Architects, Consultants, etc.) to own solutions end-to-end. Clients will expect a dynamic partnership and strategic involvement from their development teams. 
     3. Creation of niche teams 
Companies will focus on building teams around niche and specialized skill sets. This will allow them to differentiate themselves in a growing world of less-experienced Salesforce Developers. This will include technology skill sets and also focus on industry experience that aligns with specific technology.
Matt Lamb, Chief Technology Officer
Key Takeaway: Developer demand slowed the least out of any role in 2023. 
Prediction: Customers will continue to seek alternative ways of engaging support from Architects on a part-time basis.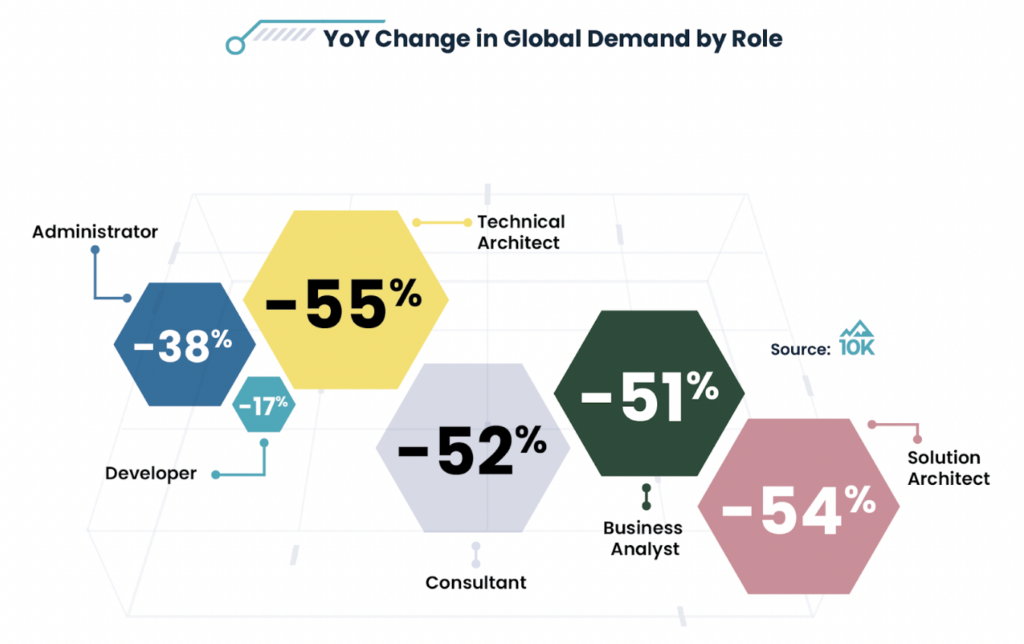 It's no surprise that the demand for developers isn't slowing down. The platform grows increasingly vast with each release, and to take full advantage of everything there is to offer, organizations end up writing code on the platform. 
This is a natural progression in adopting Salesforce and should be embraced. However, as part of that progression, organizations must formulate forward-looking technical plans and guide their implementation efforts. That's why it's so surprising to see a significant drop in Architect demand. 
We know how critical Technical and Solution Architects are to ensuring long-term success and full utilization of Salesforce programs, so I hope this isn't a trend we continue next year. I could see this dip in demand as a reaction to the challenges of hiring full-time Architects (cost, vetting, etc.). If that's the case, companies will continue to seek alternative ways of engaging support from Architects on a part-time basis.
Mike Martin, Chief Customer  Officer
Key Takeaway: The overall number of certified experts across all partners has more than doubled since 2022. This is the most significant YoY growth since we began tracking it in 2018.
Prediction: The top echelon of Salesforce partners will continue to employ a majority of certified experts in the ecosystem, but the number of smaller partners will continue to grow as newer products like AI and Data Cloud become generally available. 
Between 2022 and 2023, the top 5 partners in the Salesforce ecosystem saw triple-digit growth in the number of certified experts, and the top 1% of partners now employ 62% of all certified experts in 2023. This growth is likely attributed to the launch of new associate and entry-level certifications as well as more credentials available in the partner learning camp. We continue to see more and more experts branch out from the largest partners in the ecosystem to start their own businesses to focus on niche products or skills –  a trend that will likely continue into 2024 and beyond. 
Nick Hamm, Chief Executive Officer
Key Takeaway: Growth of the Salesforce talent market in Africa is accelerating, with supply increasing 91% YoY. 
Prediction: Africa will become an increasingly important talent market for Salesforce partners and customers over the next decade. 
While the number of Salesforce experts in Africa may be small compared to established markets, this high growth rate is an important signal. Engagement models and cost structures will continue to evolve, and Africa will play an important role. Just as South America is shaping up to play a vital role for North American companies looking for talent cost advantages in the same time zone, Africa is poised to serve Europe similarly and perhaps supplant some Indian providers as the talent population grows and matures.
Looking for more useful Salesforce talent insights? Download the 2023 Salesforce Talent Ecosystem Report.