Independent Salesforce consulting continues to grow in popularity. Converging economic factors like inflation and overly ambitious post-pandemic growth have led hundreds of companies to lay off over a hundred thousand tech employees since the start of 2023. While this is unfortunate for all the employees affected, it creates new opportunities for independent Salesforce consultants. 
Organizations that have reduced their full-time workforce still have Salesforce orgs to maintain, and many will be looking for fractional talent to take on that work and fill in the gaps. 
Independent Salesforce consultants can be a lifesaver for talent-strapped teams who lack the niche expertise or resources to manage their existing Salesforce projects (not to mention any future improvements they'd like to make).
So whether you're a newly-unemployed Salesforce professional or are just thinking about the next step in your career, now is an opportune time to step out of your comfort zone and start a new journey.
Our recent global survey of independent Salesforce consultants revealed that 40% started their Salesforce business between 2020 and 2022—and more than half of them don't plan on returning to a traditional full-time job.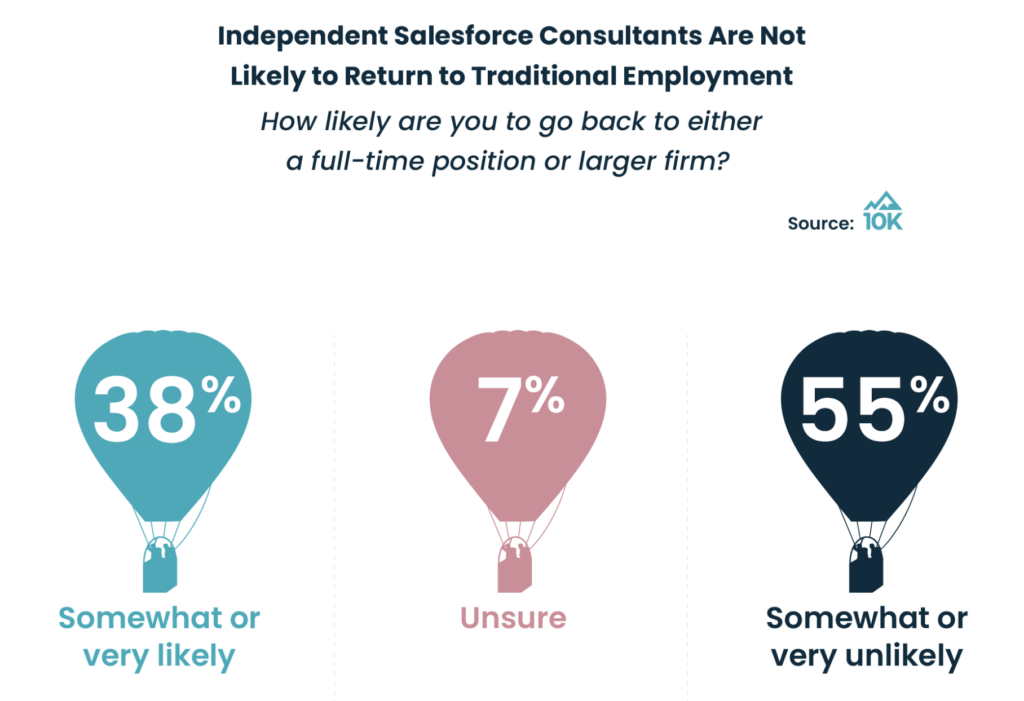 Salesforce consultants have a lot of career choices. What's best for you?
If you're a Salesforce professional with at least three years of consulting experience, you have many options for capitalizing on your skills. 
Some people opt for freelance projects via talent marketplaces such as Upwork or Fiverr. Additionally, some staffing firms can connect you with Salesforce customers looking for contract help.
Freelancing is a solid choice for many Salesforce professionals. It can also be a great stopgap when caught between full-time jobs. But for some, the idea of being their own boss and establishing an independent business calls to them. If this sounds like you, keep reading for five tips for landing your first project as an independent Salesforce consultant.
Define your differentiators and carve out your niche
Embrace the hustle of running a business. That includes all the behind-the-scenes action: creating a sales pipeline, marketing, maintaining client relationships, and more. To thrive, you have to be your loudest advocate and hungriest salesperson.
The idea of selling yourself may feel scary or overwhelming. Especially if your background is rooted in tech, not sales or marketing. But remember, the talent demand data speaks volumes – your Salesforce skills and expertise are in high demand. All you need to do is communicate how your in-depth knowledge can maximize a company's Salesforce ROI. 
Ask yourself what makes you different as a Salesforce consultant and how you stand out from your peers. Consider your hard skills and soft skills. 
How are you viewed by the people you engage with in professional settings and in your network? What are your unique competencies or niche areas of expertise? Reach out to your colleagues and ask for honest feedback. These details inform who you are as an independent Salesforce consultant and define your personal brand.
Develop your soft skills and business knowledge
It takes more than technical prowess to build a sustainable independent Salesforce consultancy. You also need solid communication skills, people skills, and business acumen to thrive. 
The most effective Salesforce consultants are strong technologists who are also capable of translating their expertise into terms that non-technical people can understand. They know how to communicate and collaborate with their clients while delivering exceptional work.
If you feel your soft skills could use some work, sites like Udemy and Coursera offer hundreds of online courses for a small fee. LinkedIn also offers a free professional soft skills learning path, which includes courses in communications, emotional intelligence, and persuasion. If you want to sharpen your skills in person, many local colleges and chambers of commerce offer classes or resources for small business owners.
Developing your business acumen will also help you be a better consultant for your clients. It will not only help you with the day-to-day tasks of running a business (e.g., setting rates, bookkeeping, etc.) but will also help you better understand how your customers operate and how their Salesforce org can best meet their needs. 
Leverage your network and market the hell out of yourself
Solopreneurs are the face of the company and must be comfortable getting off the sidelines to capture new clients. Consistent networking and an active online presence are absolute necessities. If you believe you have the skills and expertise to do great work, tell everyone who will listen! 
As soon as you start taking steps to legally establish your consultancy, make it official with your personal and professional networks. Project work is all about timing, and you never know who in your extended network might need the expertise you're offering. And don't be afraid to ask your connections for introductions. If someone you have an existing relationship with is connected with someone at a company you'd like to work with, it doesn't hurt to ask if they would connect you. 
Remember, first impressions matter. And when connecting with new people, always follow up on communications (especially if you were introduced by someone else in good faith).  
Treat building your business like hunting for a full-time job 
If you've ever spent any time job hunting, you know how much work it takes to beef up your resume, research companies, fill out applications, and reach out to potential employers. Landing Salesforce consulting gigs can take just as much effort, especially when starting out.
Get organized on Day One. Outline a process and use a system for tracking the status of your prospective customers. This is where your Salesforce skills can come into play to track the contacts you have made, project opportunities you've bid on, and companies you are pursuing for consulting engagements. Ensure you can easily identify conversations and action items related to each company and engagement. 
Once your backend processes are lined up, strengthen your brand on LinkedIn to open doors to new consulting opportunities.
Optimize your profile, so companies searching for your specific skillset can easily find you. Remember, they're scouring through dozens of profiles, so relevance is key. Include your Salesforce industry-specific knowledge, tools and technologies, interpersonal skills, and anything else that conveys your Salesforce expertise. Curate your profile for the work you want to do and delete anything that doesn't align with your Salesforce career goals.
10K COO Jared Miller says your LinkedIn profile should tell your Salesforce expert story. "I look at scores of Salesforce LinkedIn profiles daily to source talent for the 10K Expert Community," he said. "…the old adage holds—first impressions matter. How an expert communicates their Salesforce experience almost always determines whether I make contact to learn more." 
Do your homework and nail the client intro 
Once you've done the legwork to market your skills and have sufficiently piqued the interest of a potential client, the real selling begins. When you've booked a first meeting with a company, you still have to communicate your value and sell them on why you're the consultant they need.  
Famous race car driver Bobby Unser once said, "Success is where preparation and opportunity meet." Whether you're going to the Indy 500 or a business meeting on Zoom, preparation is key. The most successful independent Salesforce consultants nail the client intro by always coming prepared. 
Research the stakeholder you'll be meeting with and see if you have any shared connections or interests. Show them you did your homework on their industry and company, and check out any recent news about the organization. If they recently went through a merger or launched a new product, you should know about it. Come prepared with thoughtful questions that show you're thinking about how you can help them solve problems.
Bonus tip: Before taking a first meeting, ensure you have a 1-minute elevator pitch. A good elevator pitch explains what you do and summarizes how your unique skills benefit your clients. You can also tailor your pitch to speak to each client's specific needs. (If you need help to craft your pitch, Indeed has some helpful resources.)
Looking for connections to a roster of cool project work? Or a community of like-minded Salesforce experts like you? We're here to help you overcome the challenges of becoming an independent Salesforce consultant. Contact us!