When I started my consulting career in the Salesforce ecosystem, I had never heard the term "COE", much less did I know how critical it was to the fabric of multi-year business enablement programs. 
I came to know firsthand about the concept of a Center of Excellence while working with a global medical device company who had thousands of Salesforce users, dozens of Salesforce orgs, and a number of very large business units all using the platform for different aspects of those businesses — some related to each other, but many not. This company had created a Center of Excellence with other technologies they owned, and they were ready to get their Salesforce house tidied up. The company's goal was to coordinate better between orgs, to standardize processes, to drive efficiencies of time and cost, and most importantly, to create a better overall experience for their users and teams.
At some point during that engagement, something clicked. The proverbial light bulb went off, and many of the customer experiences I had seen before that one were now shown in a different light, with new perspective. So many Salesforce customers of all different shapes and sizes were trying to accomplish the same things. 
However, most were not being intentional about making it happen. Most of them were in the same "COE ignorance" boat as I was so they gravitated to what was either familiar, easy, or fed to them by their Salesforce partner or AE. If these partners and AEs really wanted a long term customer, the best way to ensure their customer's success (and thus their continued engagement) would be to help get the core tenants of a COE established from the beginning. 
At 10K, we're not shy about having opinions and we do our homework to inform (and sometimes evolve) those opinions. In our latest research report, we found that 91% of companies who report the highest levels of ROI from Salesforce have a COE in place. That is an overwhelming number, strongly correlating ROI and COEs. We also found that 82% of those companies giving their Salesforce implementations an "A" grade had a COE, yet another nod to the importance of having a plan and structure in order to succeed with Salesforce. 
However, even with this evidence, 40% of Salesforce customers have no semblance of a COE in place. This presents a huge opportunity for hundreds of thousands of Salesforce customers to get more from their existing investments.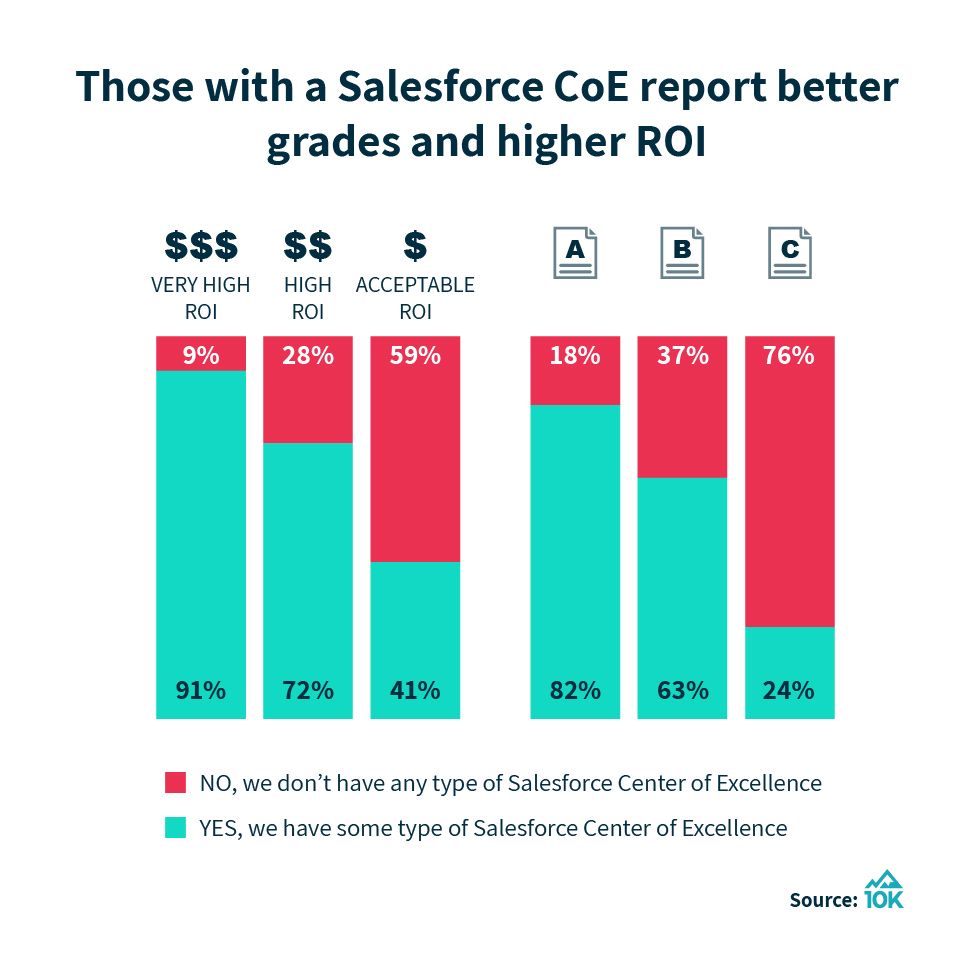 COEs can come in many different shapes and sizes. But they don't have to be complex to be effective. For Salesforce, they should encompass (at a minimum) the following areas of focus:
Team roles and structure – Who on the team does what, how do you articulate responsibilities, and how do you define and develop solutions?
Delivery standards and processes – What do you have in place to ensure you deliver capabilities to the business in a predictable and consistent way?
Governance, change, and release management – How do you prioritize requests, communicate across teams, and roll out changes in an effective way?
End user support processes – How do you ensure your end users get the answers and solutions they need in a timely manner to increase usage and adoption?
Education and growth – How do you and your team keep up with the constantly expanding Salesforce platform to help your stakeholders?
In some organizations, there is a team of one, or a "solo admin", responsible for everything. Others may have over 100 experts working on their implementation. Regardless of the team size or composition, to create successful outcomes with Salesforce you'll want to have these bases covered.
In the coming weeks, we'll dive more deeply into each of these areas to give you some tips and ideas that will help you build or refine your own Salesforce COE. We invite you to share your COE experiences on social media using the hashtag #SFDCCOE as well.
Also, if you haven't already, please check out our most recent research report which dives into other best practices for Salesforce programs. You can download the report for free here.