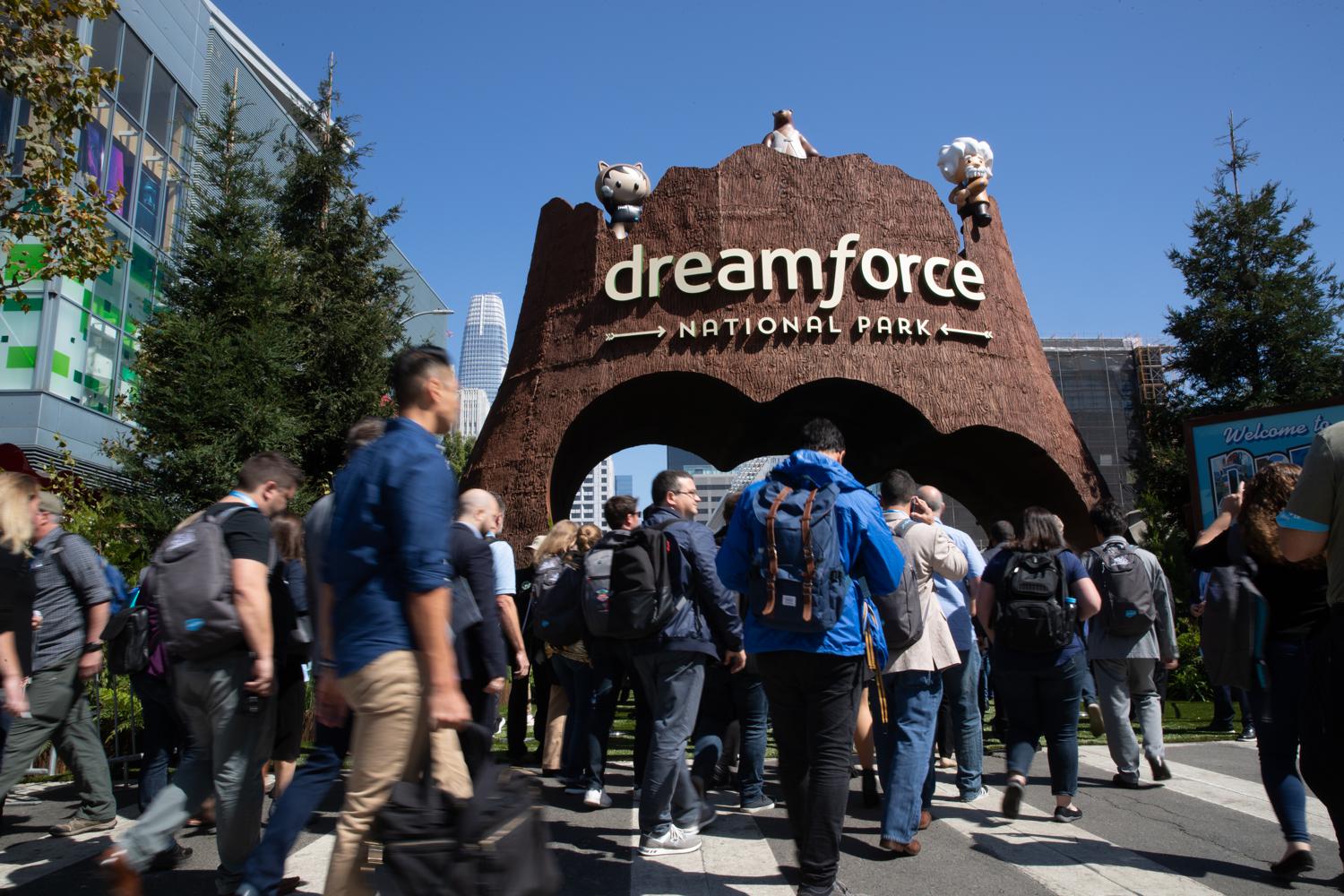 This Dreamforce, like all of the ones preceding it, was not short on new announcements of features and partnerships, most of which will have little immediate impact to the majority of Salesforce customers. Sure, there is some cool new stuff on the horizon, promises of Dreamforce-past are finally coming to fruition and getting "real", and Salesforce continues to make pioneering innovations in the business software industry. But if you're ingrained in the day to day operations of a Salesforce org or at a Salesforce partner wondering what you need to be thinking about in the immediate future, read on to learn some of the insights I took away from my many conversations this week with Salesforce admins, partners, and employees.
Trailhead is more important than ever for helping close the talent and skills gap
It's no coincidence that for each of the past few Dreamforces, the Trailhead theme has increasing permeated more and more aspects of the conference. Park-like decor, rangers helping guide attendees, sounds of birds and wildlife playing in the background everywhere you go, and this year a ~30 ft double sided waterfall were just a few of the many themes immersing attendees in the Trailhead universe. Salesforce recognizes that there is a significant talent and skills shortage in the ecosystem, with 4 jobs available for every Salesforce Developer and 10 jobs for each Salesforce Technical Architect, and Trailhead is their answer to bring new talent into the ecosystem and help existing talent skill up on the many new platform features continuously flowing. Expect to see a lot of continued investment and innovation in this area.
Salesforce's focus on equality is influencing customers and partners to take action
Marc Benioff and Salesforce have been leaders on the message of equality – and it's not just all talk. Although Salesforce can boast possibly the most diverse technology ecosystem at their scale, with a 75/25 male/female split compared to 93/7 in the overall tech industry, there is still a lot of work to be done, especially in more technical roles. Customers and partners are taking notice as well and following suit by implementing their own equality measures and initiatives. This year more than ever before I talked to more people that brought this up as something that was in some way a focus of their organization. Deloitte hosted their first ever Equality Lounge, a haven for talks about equality initiatives. One partner mentioned their customer has asked them to report on diversity metrics on the project team working with them. The movement is palpable now more than ever, and Salesforce's leadership in this area is definitely having an impact.
Community-led initiatives are coming to the forefront and playing a key role in addressing both the skills and diversity gaps
Over the past several years, there have been a number of members in the Salesforce community who have dedicated their time to building programs and events that give back to the community in many different ways. Now a number of those groups are being formally recognized by Salesforce for the work they are doing. One such group, PepUpTech, was recognized a number of times throughout the conference for the work they are doing to train students from diverse backgrounds and help them gain employment in the Salesforce ecosystem. Another group I visited this week, Ladies Be Architects, is working to build more Technical Architects (a highly sought after and male-dominated role) by running a training and mentoring program completely organized by volunteers. These are just 2 examples of dozens of similar groups, each with their own focus and specialization. And Salesforce has started taking notice because they so desperately need their help.
Large Salesforce consulting companies are leaking talent
For the longest time, many of the top consultancies were poaching talent from the smaller consultancies in the Salesforce ecosystem as they rushed to build their practices and capture the huge opportunity Salesforce presented to them as they moved upstream into the enterprise market. But that flow has started to change direction, with a growing number of Salesforce experts hanging their own shingle or moving into more senior roles at smaller, rapidly growing consultancies. I met with over a dozen such experts, many of whom cited more freedom, less bureaucracy, and more rapid career growth as motivating factors for their move. Everyone is fighting for Salesforce talent these days, and there are no shortage of options for those who hold both the skills and experience needed to help customers and partners move their business forward. This presents more of a challenge for Salesforce customers, who now have more options to consider when looking for the right talent to help them succeed.
Niche clouds become a growing source of resource contention
As of late, Salesforce has been on an acquisition spree of businesses of an ever-growing size. And incorporating those businesses into the platform and the ecosystem has started to create a an extreme supply problem for the hyper-specialized skills they require. Salesforce CPQ (Steelbrick), Marketing Cloud (Exact Target and Pardot), Commerce Cloud (Demandware and Cloud Craze), and Integration Cloud (Mulesoft) are some of the primary drivers of resource contention for both Salesforce customers and partners. The good news is that the Salesforce sales team has been very successful at driving customer acquisition of these new SKUs, however, the customers and partners looking to implement the promises of these initiatives are struggling to find enough experienced talent. For anyone in the ecosystem looking to add additional skills to their resume, I would recommend starting here. According to one Salesforce partner, a consultant specializing in Commerce Cloud can earn up to 50% more than one of their more generalist counterparts. It's likely that this trend will continue for months, if not years, to come.