By 10K COO Jared Miller
In a sea of Salesforce experts, how do you find an experienced consultant with the right skills to fit your business?
If you've bought a Salesforce license (or plan to in the future), this question is likely top of mind for you. Whether you're a new Salesforce customer looking for strategy, implementation or integration help, or an existing customer looking to build on what you have, having some specialized expertise in your corner can mean a world of difference when it comes to ROI. This challenge extends beyond the customer ecosystem and into professional services companies as well. 
Unfortunately, finding the right person, with the right skills for your situation isn't always easy. Salesforce research says the job market for Salesforce skills has grown 41 percent in the last four years, which is great for those with the skills but can be challenging for customers who need to find, vet and onboard an expert. According to 10K's newest research (which you can download for free here) finding and vetting the right consultants or internal candidates top the list of customer challenges when working with Salesforce partners.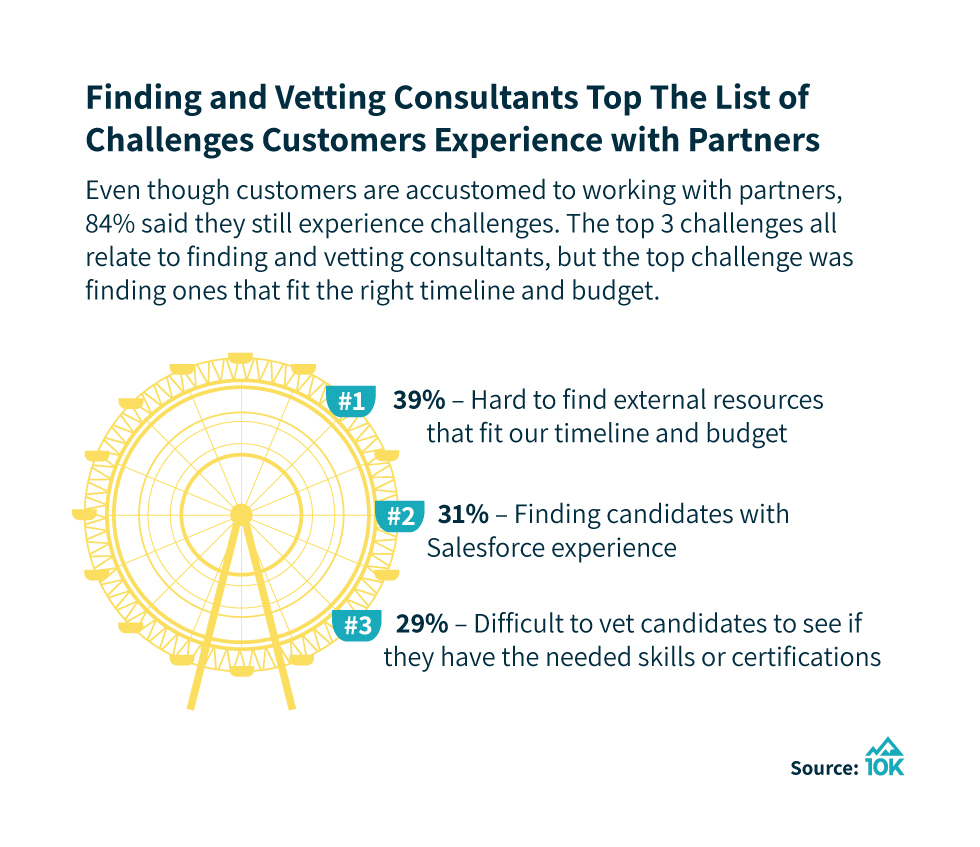 Finding and vetting candidates for 10K's on-demand Community of Experts is something I do every day. Over the past three years, I've spoken with hundreds of consultants, admins, project managers, developers and architects about joining our community. Here are a few tips I've learned from that experience.
Start with the skill set you need
Before you start searching for the right person, it's important to know what skills you need for your particular situation and what role is most critical. Our CEO Nick wrote a blog earlier this year highlighting when you might need a developer vs. an architect or an analyst vs. an admin.
Once you have the skills and role in mind, you can start your research. For those who have the knowledge and time to conduct a search on their own, LinkedIn and Salesforce's AppExchange are a great place to start. However, know you'll be searching through thousands of profiles, some that are comprehensive and up-to-date but many lacking in details. 
Checking for the Salesforce certifications and Trailhead badges a firm or consultant has earned can help narrow down the field, but it's still a pretty big field. Salesforce reported its community had earned more than 8 million Salesforce Trailhead badges last year, and there are already more than 1,000 Salesforce consulting partners listed on the AppExchange.
Even if a person lists a particular skill, badge or certification, you'll still need to do quite a bit of vetting from there. According to our May 2019 survey of 300+ Salesforce program stakeholders, 55% said they've definitely had or suspect they've had an experience where a job candidate or consultant claimed certifications or specific domain expertise they didn't have.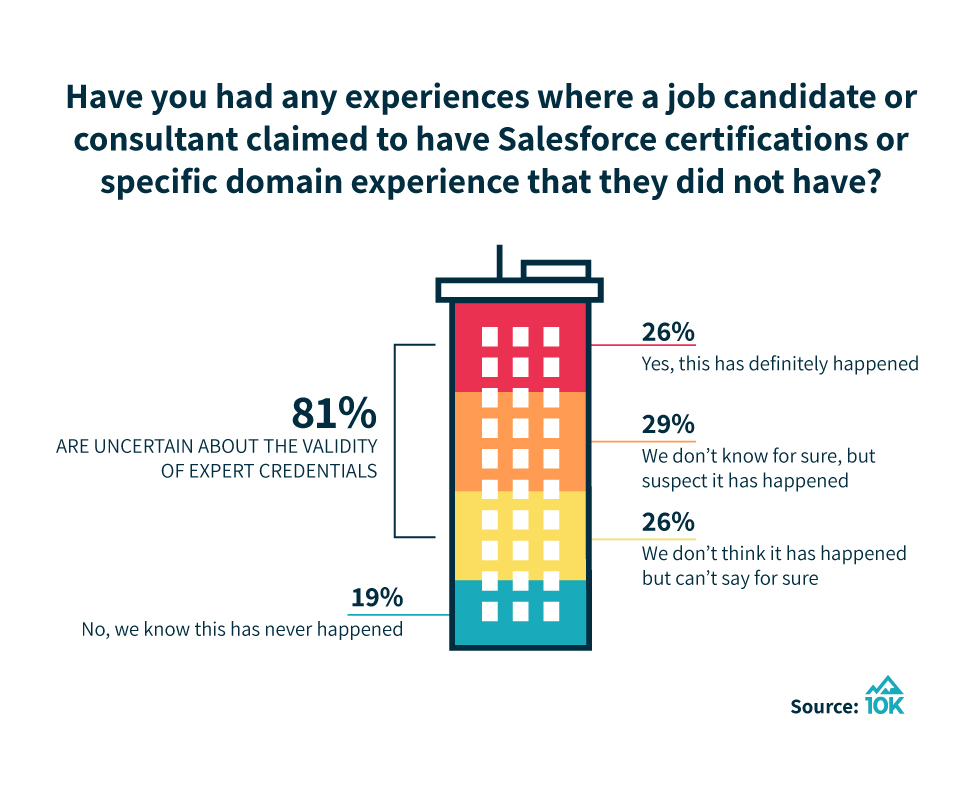 With any large influx of fresh talent into a market — especially a market as lucrative as Salesforce — it's critical to verify a person's skill set in some way before hiring them for anything substantial. You can do this through references, test projects or detailed technical interviews. However, if you don't have the time or expertise to do this on your own, a partner like 10K who has already pre-vetted the talent on their rosters can alleviate much of this burden.
Find the right fit beyond just skills
The next step is to make sure the consultant you have found is a good fit for your team, your business, and your system. Do they act professionally? Do they ask questions? Do they have the right temperament and communication style to work alongside you or your team? If a candidate can't communicate or listen well, it doesn't matter how intelligent or experienced they are.
When we look to bring an Expert into our community — even before they are matched to a client — I will start by looking through their LinkedIn profiles and social feeds. Have they spent the time to keep their LinkedIn profile updated? What kind of public conversations are they having on Twitter or Facebook? Once I've done a little homework, I'll request a call (preferably video) to get a feel for who they are and what they're looking for. During these conversations I want to know they've done some research into who we are, what we do, and our unique business model. If a candidate takes the initiative to research us, they're more likely to take the initiative in client relationships. 
During these calls, we talk about why they got into the Salesforce ecosystem, what they love about working on projects, and what kind of projects they want to work on. I also ask about the mistakes they've made and what they've learned from those mistakes. These early conversations give me a good gauge for their professionalism, passion and communication style, but also how they fit with our clients and our values. Our top value is trust – dependability, integrity, and honesty. We want growth-minded, introspective people working with our clients. If a person can't admit to a mistake or constantly blames others, they aren't going to be a fit.
If we're interviewing for a particular client situation, I will dig deeper into their specific experience for that situation. Have they worked with clients in this industry before? Have they successfully worked on programs and systems of this scale? If a client has a super complex implementation, having someone who understands that level of sophistication and the interdependencies that come along with it is key. If it's a basic need for a simple system, putting a consultant with 15 years of experience could be overkill. 
These are just some of the practices I use on a regular basis to make sure we have proven talent in our community who are a good fit for our clients.  What are some of the things you do to make sure you find the right person for your Salesforce program?