By 10K COO Jared Miller
Did you know that developers and technical architects are not only some of the most difficult to find roles in the Salesforce ecosystem, they are also the most in-demand roles? 
If you're looking for technical talent, chances are you will at some point look to an offshore partner, and likely one in India. According to our most recent Salesforce talent ecosystem research, India already comprises 39% of the global Salesforce development talent and is experiencing higher YoY growth rates than either Europe or the U.S.
While unfortunate stereotypes may be creeping into your head as you read this, I want to address that head on. I have worked with dozens of Indian development teams over 10+ years in the industry, and can attest that the vast majority of these teams are just as committed to quality work as their onshore counterparts. Yes, there are communication challenges when it comes to working across different time zones and languages, but with the right mindset, onboarding, processes and tools, these challenges can be overcome.
We recently wrote a post about the do's and don'ts when working with offshore teams. If you haven't read that, we recommend you start there. That post was written from the client's perspective, and I believe it's helpful to understand the provider's perspective as well. What's it like to be on the other side of the digital fence and what do those teams need to be successful.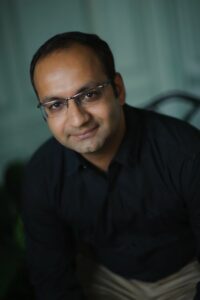 To provide this perspective we conducted a Q&A with Ankit Arora, founder and director of Briskminds, an offshore provider with 110+ developers, consultants and architects specializing in Salesforce. I've worked with Ankit, a fellow Salesforce MVP Hall of Famer, for more than four years and admire not only his passion for doing great work but the passion he has instilled in his team. 
What kind of Salesforce work does your team do?
Ankit:  I would say we are "masters of all trades" when it comes to Salesforce. We specialize in implementing Sales Cloud and Service Cloud, and have become very well known for our development work with Lightning. We also have certified Mulesoft, Marketing Cloud, CPQ and Commerce Cloud developers, which are in high-demand.
Why do you love what you do, and how does 10K help you?
Ankit: When we come to the office we are not just coming for a job, we are passionate about what we do. Working with 10K offers an environment that makes us comfortable and allows us to focus on what we are passionate about — doing great work on Salesforce. There is a mutual trust and understanding with the 10K team, and they give equal importance to clients and to us. This makes us feel like a part of the team and not just an offshore company.
Why do you think India is such a hotbed of Salesforce developer talent?
Ankit: People in India, especially around my area, are really passionate towards technology. The tech community here is very strong and close-knit, which helps everyone to learn from each other. Another reason is likely the number of colleges and universities, which are graduating 1.5 million students per year. That makes it easy for companies like ours to hire fresh talent and train them according to the greatest market needs.
Other than lower rates, what benefits come from using a development team like yours?
Ankit: Being cost effective is only one of the benefits, but a bigger benefit is the ability to get talent and resources as you need them. You don't need to worry about retention or expansion, and if you're working with a good partner, you will get good quality. To compete in this market, services companies like us must keep ourselves up-to-date with the technology which also helps clients to stay ahead of the game. If you need more skills or more capacity without impacting the quality of your current setup, we are here.
What are some of the characteristics of your best clients and worst clients?
Ankit: This is a hard question as we look at everyone individually. Everyone has a different nature and behavior of work, so comparing anyone is difficult. However, keeping a mutual respect and understanding is very important, and all of our clients are on the same page there.
Some clients worry about the communication or timezone challenges associated with using an offshore team. What advice would you give to companies and other consultants on how to overcome these challenges? 
Ankit: It's all about setting the right expectations. Offshore has to be very clear about whether they support the client's working hours or not. If they do, there should be no concerns. If they do not, they should set a specific time to collaborate every day at the beginning or end of a workday. Communication is not always easy, but hiring or training for this helps or again setting expectations with client upfront. Offshore teams that over-commit when it comes to timing and communication just to get the deal is the bigger problem.
What kind of processes do your teams use to ensure the quality of work?
Ankit:  We assign a mentor to each person, and collaborate on a daily basis. The mentor helps to check the code and point the mentee in the right direction. We also conduct weekly resource planning meetings where action plans are made for resources who need more attention or assign more mentorship to ensure they keep improving. Company leaders also meet either face-to-face or online with clients weekly or bi-weekly to keep track of projects and get regular feedback on performance.