By 10K COO Jared Miller
Our CEO Nick Hamm recently wrote a post about working with offshore partners to fill Salesforce talent needs (if you haven't read that, we recommend you start there). It had some great tips for clients on how to be more successful, however, as the person responsible for growing and nurturing 10K's own community of Salesforce experts, I think it's also helpful to understand the provider's perspective — what is it like to be on the other side of the digital fence and what do those teams need in order to be successful.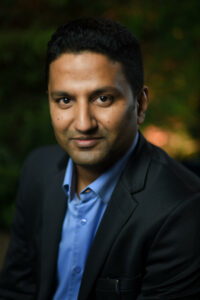 The first Q&A in this series is with Abhinav Gupta, founder of Concretio Apps, a Salesforce consulting firm based in India. Abhinav has been working with 10K Advisors for four years, and his team has helped dozens of our clients meet and exceed their business goals with Salesforce. What first drew us to Abhinav and his team was not just their reputable work, but also their communication skills and the fact that they thoroughly train and support their teams. Their concern extends beyond just the work they produce, to making sure they are skilling-up their teams, providing career paths for every member, learning from mistakes, and celebrating the small (and big) victories.
Let's get started. 
What kind of Salesforce work does your team do?
Abhinav: Concretio Apps is often called on for complex Salesforce implementations as well as mobile and custom development using Aura, LWC, etc. We have completed multiple Community Cloud implementations, developed AppExchange apps for many ISV partners, and  worked on projects such as Souq.com, now Amazon.ae, Amazon's English-Arabic language e-commerce platform.
Why do you love what you do, and how does working with a community like 10K help?
Abhinav: We are quite passionate about how fast companies can move and go live with Salesforce.com, and the level of innovation which comes from having three releases in a year. 10K has become a trusted advocate for us. Their relationships and proximity to clients, and their depth of experience in managing offshore relationships helps make sure both parties (the client and offshore team) are well aligned. 10K's agile development approach and the placement of 10K's expert architects in a client's local timezone is a big plus for our teams as well.
Why do you think India is such a hotbed of Salesforce developer talent?
Abhinav: The number of engineering colleges in India is one reason. The fresh pool of talent we are building with every passing year is huge, and IT and Computer Science continue to be the hottest majors for college students to pursue. Apart from this, developers in India are very experienced in delivering enterprise solutions using languages like Java, .NET, NodeJS, Ruby, etc. This creates a big pool of polyglot talent that can be cross-trained in Salesforce quite rapidly.
Other than lower rates, what benefits come from using a development team like yours?
Abhinav: Our motto is "Quality > Integrity > Salesforce", and we are very selective in the people we hire. Top class people keep the bar high for everyone in the company, but we also bank a lot in our internal training. We believe a learning culture keeps the quality high. Last but not least is INTEGRITY. We would never fake a resume, bill the same person on two projects, or breach a solicitation clause with our customers/partners (which are rare but do exist in the Indian market).
What are some of the characteristics of your best clients and worst clients?
Abhinav: Our best clients are respectful towards our team and they don't see Indian offshore as servants. They understand the importance of discovery and having a clear scope of work, and keep active and open communication throughout a project to avoid ambiguity. They give us time to write good unit tests and see the value in having a QA team in place for non-trivial projects. They let us use our own project management tools or bring their own tools to avoid requirements being shared on calls, emails and chats. Finally, they give a clear idea of resource utilization plans, and proper notice before terminating a contract. 
Our worst clients do the opposite. They solicit my team members, or worse, are abusive to team members over the phone or email for no real reason. They don't pay, delay payments, or ask for discounts to pay in full. They try to get a complex job done by a junior member of the team because they need a low rate, or they are not open in communication trying to get tasks done via chat or email to avoid calls. 
Some clients worry about the communication or timezone challenges associated with using an offshore team. What advice would you give to companies and other consultants on how to overcome these challenges? 
Abhinav: It's always possible to find a timezone overlap, one side's morning vs another's evening. Even a short sync-up call or chat to go over queries, status, risks, etc. will achieve a lot with a capable team in place. This sync-up could be frequent in the initial phase of the project and could cool done to once a week when things are stable. 
What kind of processes do your teams use to ensure the quality of work?
Abhinav:  For process, we strongly believe in reporting status on a daily basis, with clear mentions about what's done, pending or what are blockers. If a client needs to ask for status, it means something is wrong. We make sure to agree upon communication frequency early and are transparent with customers even when things are not going according to plan. We tell our team that it's fine not to know the answers, but to look into it and find a solution.Lastly, we don't share the resumes of senior folks and make juniors work on the project. This solves a lot of other offshore-related problems automatically.