When it comes to Salesforce configuration and development, the trend of looking outside company walls for necessary skills and expertise is nothing new. In fact, it could be the way to go. Our 2019 survey of 300+ Salesforce stakeholders found that those who reported the highest grades for their system and the most Return on Investment (ROI) were also the most likely to report that all of their Salesforce implementation was built by 3rd party contractors. 
However, high ROI and A-grades don't just happen. It's the result of knowing how to and how not to work with outside talent — especially talent that is based overseas. And if you're looking for development talent and other hard-to-find technical skills, then chances are you'll be working with a partner or independent consultant based outside your time zone at some point in your career.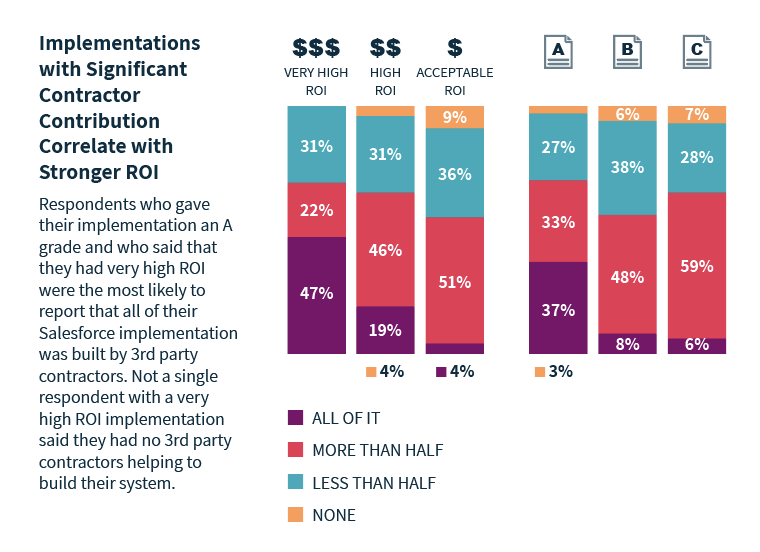 Research from 10K's most recent Salesforce Talent Ecosystem Report shows that while Salesforce talent is growing across all regions, the highest growth (more than 240% YoY) is happening in emerging markets like South America, China and Africa. While growth rates aren't quite as high in India, it still has the largest worldwide concentration of Salesforce developer talent. 
If you are already using or planning to use offshore talent for your Salesforce program, 10K's CEO Nick Hamm offers some useful do's and don't to make sure you and your partner are getting what you want out of the relationship.
1. Don't be lured by the cheapest rate
There's an old adage that "you get what you pay for," and those who shop only for the cheapest rate are usually surprised at the additional amount of management, review and rework that comes from looking only at hourly rates. When it comes to your Salesforce system, a critical part of business operations, consider quality over quantity. 
While you might still be able to find offshore Salesforce developers with hourly rates below $20 an hour, buyer beware. You will most likely get 1) someone who hasn't been working with Salesforce very long, or 2) someone that will take 2-3x longer to accomplish your needs. Wouldn't you rather hire an experienced and qualified candidate who can accomplish your needs in an hour, versus a candidate who takes 3-5 hours to accomplish the same task? And consider what is being compromised to offer such an "affordable" rate. What are their working conditions? What kind of take home pay do these people actually see? While there might be greater value in the rates of offshore partners than onshore equivalents, if you're looking for a specialized skill like Salesforce and you want it done right, expect to pay more than "traditional offshore" rates.
2. Do know your needs
Before you start your search for an offshore partner, make sure you are clear on your goals and needs from the very beginning. For example, do you know your specific budget and timeline? Understanding that up-front will save you valuable time and money down the road when it comes to evaluating different options. What roles and skill sets do you need both internally and on the partner side?  Do you need basic configuration help or custom development in a particular language? Is it a larger project that requires an experienced technical architect or a project manager to coordinate between internal and external groups, or something that can be done with a single consultant? Knowing what you need early on and how your offshore partner will fit into those plans will not only help you select the right partner and make sure they allocate the right team, it will also help alleviate the unexpected costs and disappointments that invariably come from unclear or misguided expectations.
3. Don't just think of offshore for development
A company's first instinct might be to look overseas solely for developers, but keep an open mind. Other roles or skills might be required to successfully execute a Salesforce initiative, and many of those hard-to-find and hard-to-retain skills can be found abroad as well.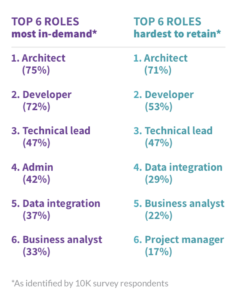 Some offshore partners are certified in specialized skills such as AI and Machine Learning (e.g. Einstein) or data visualization (e.g. Tableau), all of which are useful for any kind of digital transformation effort. Don't overlook the need for QA (Quality Assurance) or integration expertise for certain initiatives either. These can play an outsized role in making sure systems meet their intended business requirements. 
Lastly, and perhaps most importantly, consider whether you could use a technical or solutions architect on your program, which can not only define, design and execute solutions but also act as a technical advisor to steer you on the right course. Seasoned architects, especially those with great communication skills, are in high demand and may have a higher hourly rate. However, they can make a significant difference in achieving a high ROI.
4. Don't skip the context or rush onboarding 
When in doubt, lay it all out there. The more context and detail your offshore partner has from the onset the better.  If you're working with someone well-versed and experienced in Salesforce, which is the goal here, you shouldn't have to spell out every single thing you want done. But you should be clear about project goals, explain what's unique about your environment and recommend solutions you might have already investigated. If you do this, your partner will be a lot more effective. It will also allow them to identify potential pitfalls and limit the amount of time spent in back-and-forth. Always begin a new project with a kick-off where you lay all this out in detail, and try to document as many of these details as possible in the stories and requirements you assign to the team. You might be surprised by how much this can save you from making bad decisions.
5. Do build personal relationships
Finding talented people who have the skills you need, can understand your business and meet your timelines and budget isn't easy. If you've found those people, or think you might have, spend time nurturing those relationships. Creating personal relationships with your overseas partners will not only help you get more out of your business relationship, it will pay dividends when you hit the inevitable rough patches that happen in projects or during go-lives. It will hopefully also instill a level of loyalty that makes a partner feel like, well, a partner. 
While you may be tempted to have an "out of sight out of mind" mentality when it comes to working with contractors overseas, remember that's a human on the other end of the email or phone line. Not just a "resource." Regardless of gender, nationality, religion or background, the universal needs of humans apply here, and working to find commonalities among the inevitable challenges of working across timezones and language barriers should be a top priority.
To help find that human commonality and provide perspective into what it's like to be an offshore provider, we interviewed some of our most successful offshore partners — Abhinav Gupta, founder of Concretio, and Ankit Arora, founder of Briskminds.
If you're an offshore partner or use offshore partners, and have additional do's or don'ts that you think would be helpful, we'd love your comments as well!