The title of this post may be a little misleading. Why would an agency that specializes in connecting companies with outsourced Salesforce talent give advice on what not to outsource? At 10K we pride ourselves on being a resource for all Salesforce needs, which means we have seasoned experts in our community across every one of the tasks and roles described below (because everyone's situation varies). 
However, we also believe there are some things you can, and should, whenever possible, delegate to internal staff. These include:
Daily Administration
Daily administration tasks for Salesforce range in levels of complexity, from the fairly simple like resetting passwords or creating reports, to managing overall end-user support and handling feature requests. In some companies, admins are like a swiss army knife capable of handling almost anything, but if the system needs are primarily lower-level tasks, it's easier to have these internally-owned rather than outsourcing. 
This is because business context is key. An internal admin should understand the "why" behind their tasks rather than simply doing what they are told. This requires working across business stakeholders and technical teams and an analytic skillset to ask the right questions and understand user requirements. It also requires certain communication skills to translate technical requirements to the business, and vice versa.
End-User Support
Similar to the daily administration tasks, you want the person or people handling end-user support to have a solid understanding of your business so they can triage issues and provide support based on their context of why things are the way they are. Ultimately, you want your end-users to be comfortable with who they're working with, and having someone in-house is your best option. 
(Some) Release Management
While a lot of companies (including 10K) can provide guidance on the process and toolset to use, ultimately there are a lot of orgs that don't want a third party touching their production, largely due in part to security. We get it. As we've mentioned in our recent Handbook for Salesforce Operational Excellence, it's a good idea to have someone internally own the release management toolset and the overall process for release management. 
Release management should be handled by someone who is incredibly organized, and disciplined enough to adhere to a defined governance process. It's important to have someone comfortable telling execs "no" to maintain the process and rigor that's required of the position, and that might be difficult for an external vendor.
Depending on the size and scale of your organization you may have multiple people handling these responsibilities. Some people may be handling the responsibilities in addition to other duties, while for others, it will be their full-time job (e.g. full-time release managers).
What Should Be Outsourced
On the flip side, we'd be remiss not to discuss the tasks and roles you should consider outsourcing to an external party because there are many. In our 2019 Salesforce Best Practices Research study, we found that 94% of respondents were working with at least one consulting vendor. More than half (53%) were working with three or more partners.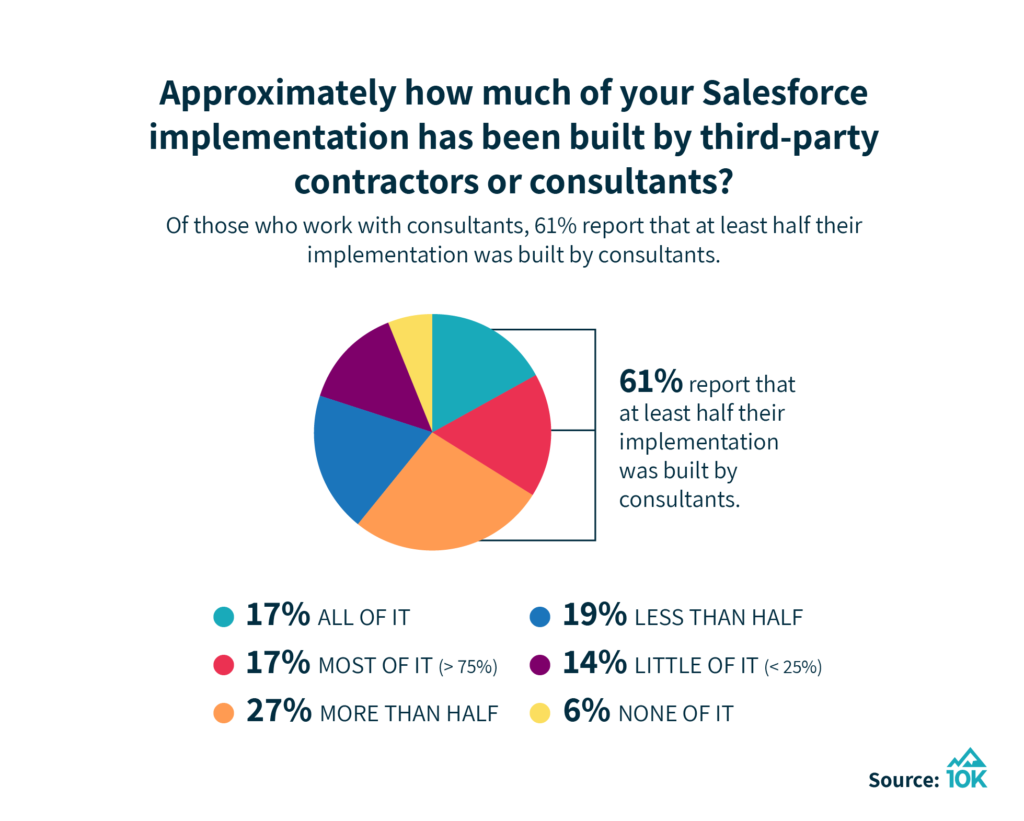 There are many reasons why so many companies choose to outsource so much of their Salesforce work:
The Salesforce platform is both deep and broad, which means you'll be hard-pressed to find experts inside your organization knowledgeable in every skill and specialty you might need.

The Salesforce platform and ecosystem is ever-evolving, which means it's tough to keep updated on every new feature, advancement or change, especially if you aren't in the sole business of being a Salesforce expert.

Experienced Salesforce talent is difficult to find and not easy to keep, especially technical and specialized roles. According to

our 2019 Salesforce Talent Ecosystem report

, when it comes to the roles most-in-demand and hardest to retain, architects, developers and technical leads came in at the top 3 of both lists. 
Given the dynamics above, it makes sense that the skills and roles we believe are best suited to an external expert are those that are either hard to find, hard to keep, or require an outside perspective. 
These include:
Developer: Development talent (people versed in Salesforce-specific configurations, APIs, and coding languages like Apex, Lightning, or Visualforce) can be hard to vet and qualify. Especially if the person in charge of finding this resource isn't technical themselves. When customers work with a trusted partner, whether onshore or offshore, they can take ownership of the quality and can provide a safety net if things go awry. 
Technical Lead: This role is even more difficult to find, vet, and qualify, especially since many Technical Leads should have more years of experience and more projects under their belt. Yet these experts are indispensable when it comes to designing solutions, communicating, clarifying and testing requirements, and helping a bigger team of Salesforce developers to work together in a cohesive way.
Technical Architect: This is a seasoned role that can define, design, and execute solutions on the Salesforce platform, as well as other tools, often acting as a technical advisor throughout the entire engagement. Technical Architects are few and far between, and they also don't typically need to be a full-time resource.  Outsourcing allows you to access Technical Architecture in a fractional capacity. 
Integration Specialist: This role specializes in integrating Salesforce with other tools via APIs, Mulesoft, and/or third-party middleware applications (e.g. Informatica, Boomi, Jitterbit, Talend). Specialized skill sets like integration change rapidly, so looking outside company walls can ensure you're keeping up with the latest developments.  Bringing in an expert for a particular integration platform can also accelerate a project and allow your internal team to focus on their core competencies.
Platform Specialists: Occasionally you'll need outside help for specialized projects and implementations that require skills an internal team doesn't have, or time they don't have. Some of the newer Salesforce clouds also require individuals with advanced skills in things like CPQ, AI and Machine Learning, Field Service Lightning, etc.
This list isn't the be-all, end-all, and of course, will vary based on a business' unique needs and circumstances. It's meant to be a general guide based on experience across hundreds of customer projects. 
If you are in the market for any of these tasks we believe can be outsourced, 10K has a community of experts who can help. If you are lucky enough to have an internal team of experts and are looking for how to get more out of your program, we'd encourage you to check out our Salesforce Operational Excellence Handbook.