Founding partners of 10K's ISV Partner Program include Workato, Plauti, Logik.io, LeanData, and
Work-Relay
In 2016, we established the Salesforce ecosystem's first on-demand consulting partner because we knew there was a better way. At the time, two trends were unfolding:
Customers were fed up with the same broken consulting practices handed down from traditional software. Tired of long sales cycles, multi-year contracts, and paying exorbitant rates for inexperienced "experts," customers wanted to move faster, maximize ROI, and transform their businesses.
At the same time, a growing number of seasoned Salesforce experts were leaving traditional employment. These seasoned experts saw the flexibility afforded by independent consulting and an opportunity to capitalize on the expansion and deepening specialization of Salesforce offerings. 
Today, the Salesforce ecosystem continues to grow rapidly, with over 2,500 consulting partners and thousands of ISV apps listed on AppExchange. With so many options, it can be overwhelming for customers to identify the right solutions and partners to meet their needs. Customers need the ability to innovate faster while trusting the work they're getting.
Strategic ISV partnerships will enrich the value of on-demand consulting 
In this landscape, we are thrilled to build upon 10K's mission – to give people the freedom to excel at the work they love – with the announcement of our ISV Partner Program, in partnership with Workato, Plauti, Logik.io, LeanData, and Work-Relay. Dedicated to forming strategic partnerships between industry-leading ISVs and our community of deeply experienced, on-demand Salesforce experts, our ISV Partner Program will help even more customers maximize their Salesforce ROI.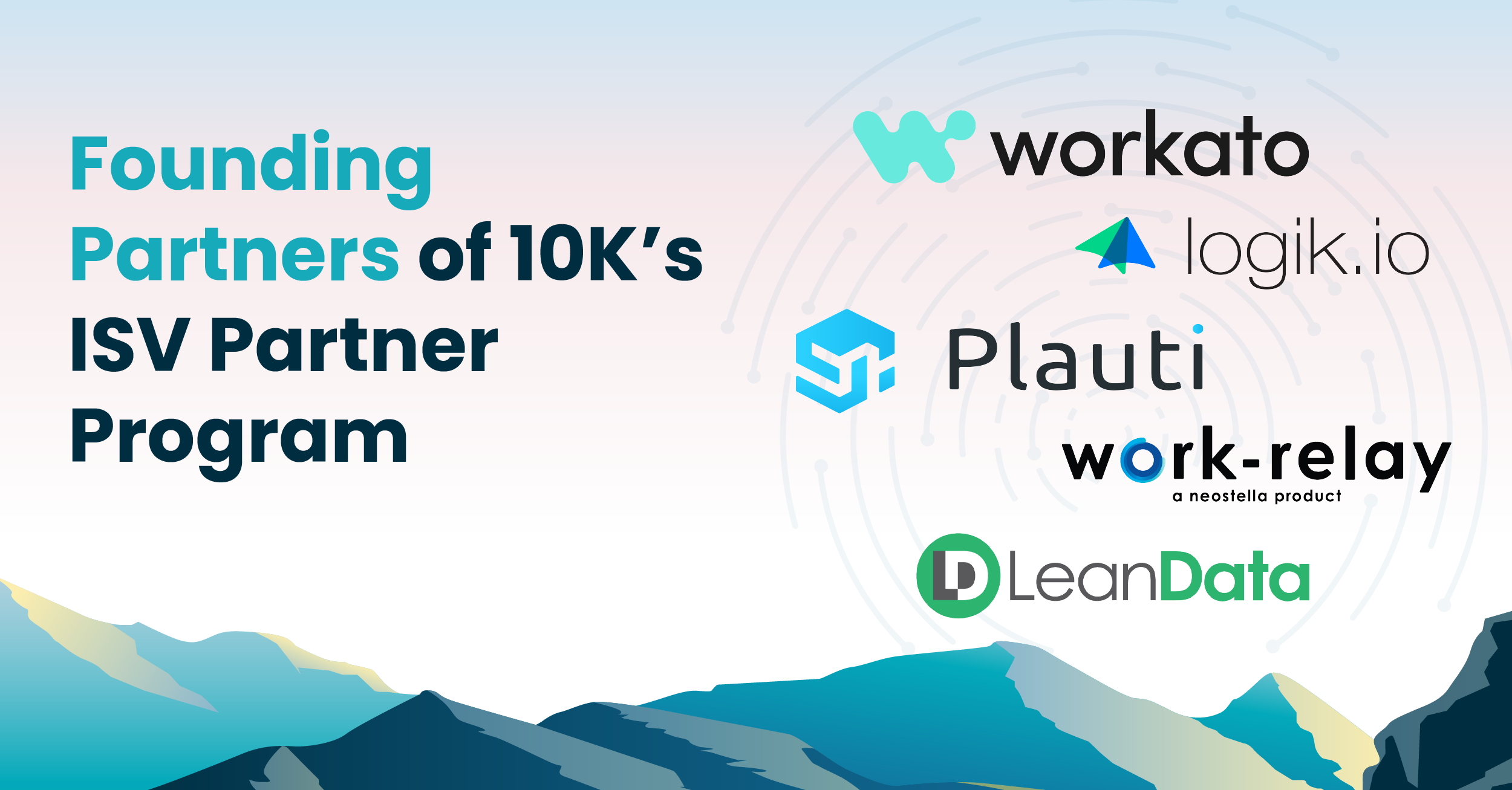 For ISVs, we know how difficult it is to deliver high-quality professional services while building an enterprise-grade product. By connecting best-in-class ISVs with our global Salesforce expert community and on-demand consulting services, we can help more businesses accelerate their time-to-value, stay competitive in an ever-changing world, and gain the freedom to focus on the work they love. 
Our curated ISV community will also help create exciting new opportunities for 10K Experts, providing carefully vetted certification opportunities and connecting them with influential ISVs to gain more project opportunities and expand their client base. 
For Salesforce customers, 10K's ISV Partner Program means that they can depend on our expert community for an even broader spectrum of trusted, on-demand services to help them maximize the value of their investment in Salesforce and its ecosystem of AppExchange solutions.
"This is the next phase in the evolution of 10K's thriving expert community."
As 10K's VP of Partner Alliances, Lynnea Gibbs, says, "This is the next phase in the evolution of 10K's thriving expert community. By welcoming ISVs into the mix, we are charting a course toward mutual growth and shared success. Our partnerships will not only enrich the expertise of 10K Experts but also pave the way for new opportunities, new solutions, and a new level of excellence for our customers."
Markus Zirn, Chief Strategy Officer at Workato, notes, "I am thrilled to be part of the founding cohort of 10K's groundbreaking partner program. Workato's roots lie in our commitment to the Salesforce [SFDC] ecosystem and, particularly, the SFDC MVPs who have been instrumental in our journey. Our partnership is a testament to the power of collaboration and our dedication to providing unparalleled value to the SFDC ecosystem. With 10K, we will shape the future of technology and enable businesses to thrive in this era of digital transformation."
Interested in learning more about how our ISV Partner Program will drive more value for Salesforce ISVs, customers, and experts? Visit us here.