By Nick Hamm, CEO
The Salesforce ecosystem has grown exponentially in the last 20 years, and IDC's recent report on the economic impact of that ecosystem shows that growth isn't slowing anytime soon. According to IDC, the Salesforce ecosystem will create more than a trillion dollars in new business revenue and 4.2 million jobs between 2019 and 2024. 
Today 10K is releasing its 2019 Salesforce Talent Ecosystem Report which shows these aren't empty projections. In the last year alone Salesforce-related profiles on LinkedIn grew 151%, with some regions and roles growing more than 250% year-over-year.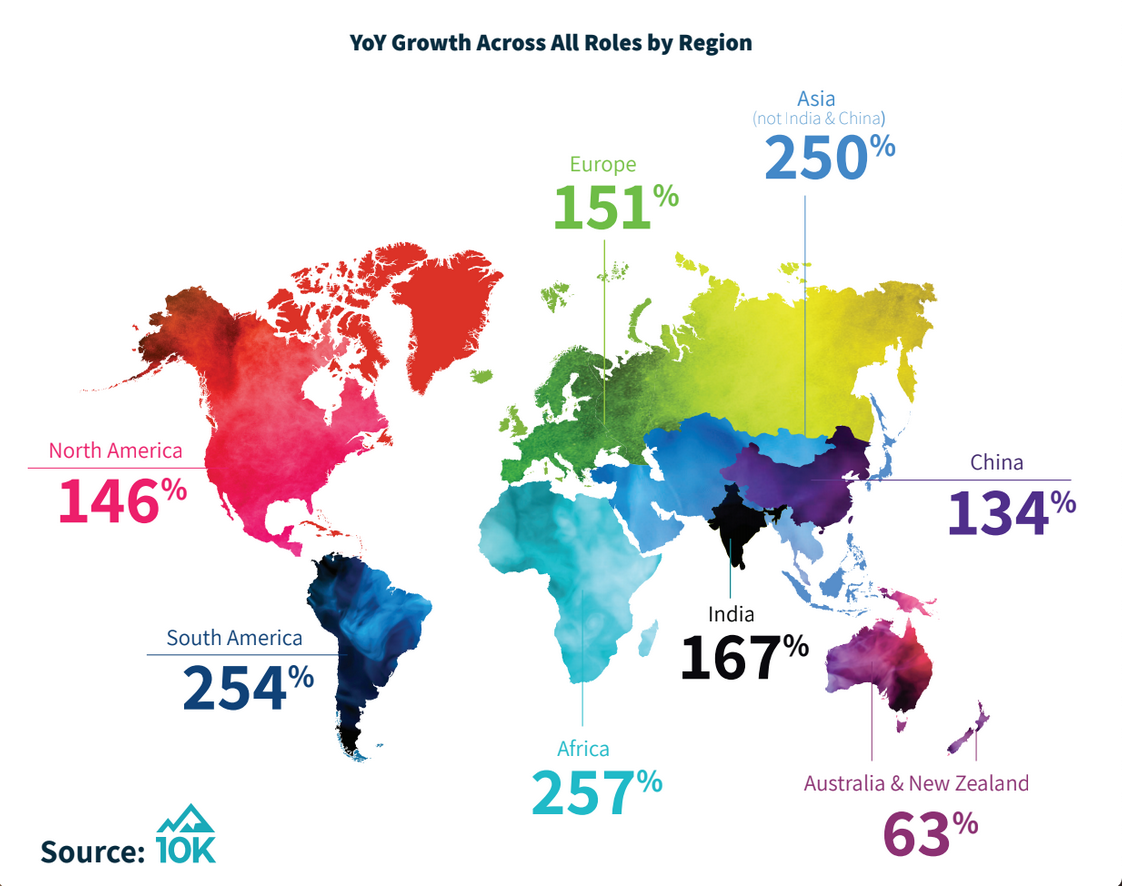 Before I go into the highlights of the report, let me explain why we do all this research in the first place. 10K was founded in 2016 to be a bridge between the people who need specialized (and often hard-to-find) Salesforce talent and the people who provide those necessary skills. As that bridge we believe it's our job to understand the trends that deeply impact the Salesforce talent ecosystem and  to understand how those trends impact the people who've bet their career on Salesforce.
Last year's research laid the foundation for what is now our annual Salesforce Talent Ecosystem report. Last year we focused on what we see as the four most popular Salesforce-related roles/titles (admins, developers, architects and consultants), as well as the consulting partners within the ecosystem. That research highlighted three things:
1) the stark imbalance between supply and demand for technical roles like architects and developers; 
2) the growing parity of male and female admins but disparity in gender ratios for the more technical roles;
3) the sheer size and diverse makeup of the Salesforce partner ecosystem.
This year we evaluated not just the roles but also the skills that are most in-demand within the ecosystem and focused on the year-over-year (YoY) changes in talent supply, gender diversity and composition of the partner ecosystem. To do this we used data from LinkedIn, GlassDoor, Indeed, Salesforce AppExchange (similar to last year's methodology) but also introduced a new survey of 200+ Salesforce professionals to dive deeper into certain topics like diversity. 
What We Did (and Didn't) Expect
Some of the results we expected. For example, given Salesforce's investments in workforce development initiatives like Pathfinder, Trailhead and Vetforce, it wasn't surprising (yet still exciting) to see the impressive growth in Salesforce admin and developer roles. It also wasn't surprising to see the high demand for specialized skill sets like CPQ and Lightning given Salesforce's increasing focus in these areas and what we see anecdotally in our own business.
Some things were unexpected, such as the incredible level of growth in Salesforce talent within emerging markets like South America, China and Africa. Salesforce continues to report ongoing double digit revenue growth in both the Americas (+20% YoY) and Asia Pacific (+26% YoY), yet the triple-digit talent supply growth within these markets far exceeded our expectations. And while we weren't surprised that core Salesforce cloud skills are still in high demand, we were surprised that more people didn't identify CPQ or data visualization as a high-demand skill set, especially given how important these areas are for digital transformation. Perhaps that might change next year with Salesforce's recent Tableau acquisition. 
We were excited to see the growth in mid-size Salesforce partners, filling a hole that was left in the partner ecosystem over the last few years following all the Global Systems Integrators acquisitions. The growth of mid-size partners means that more consulting talent is more accessible to more Salesforce customers rather than being locked up within a handful of huge partners who serve only a small percentage of customers. It was also exciting to see that 50% of the Salesforce partner ecosystem is now comprised of companies with 5 or fewer certified experts, bolstering our position that as Salesforce continues to grow, more entrepreneurial opportunities will be realized by Salesforce experts.
However, some things were disappointing, like the fact that the highest paid, most in-demand roles were becoming more — not less — male dominated. 
Salesforce has done a commendable job trying to increase diversity within its own business and across the ecosystem with company-sponsored programs like Pathfinder and by supporting organizations like PepUp Tech. This is something that it received high grades for in our survey of Salesforce professionals.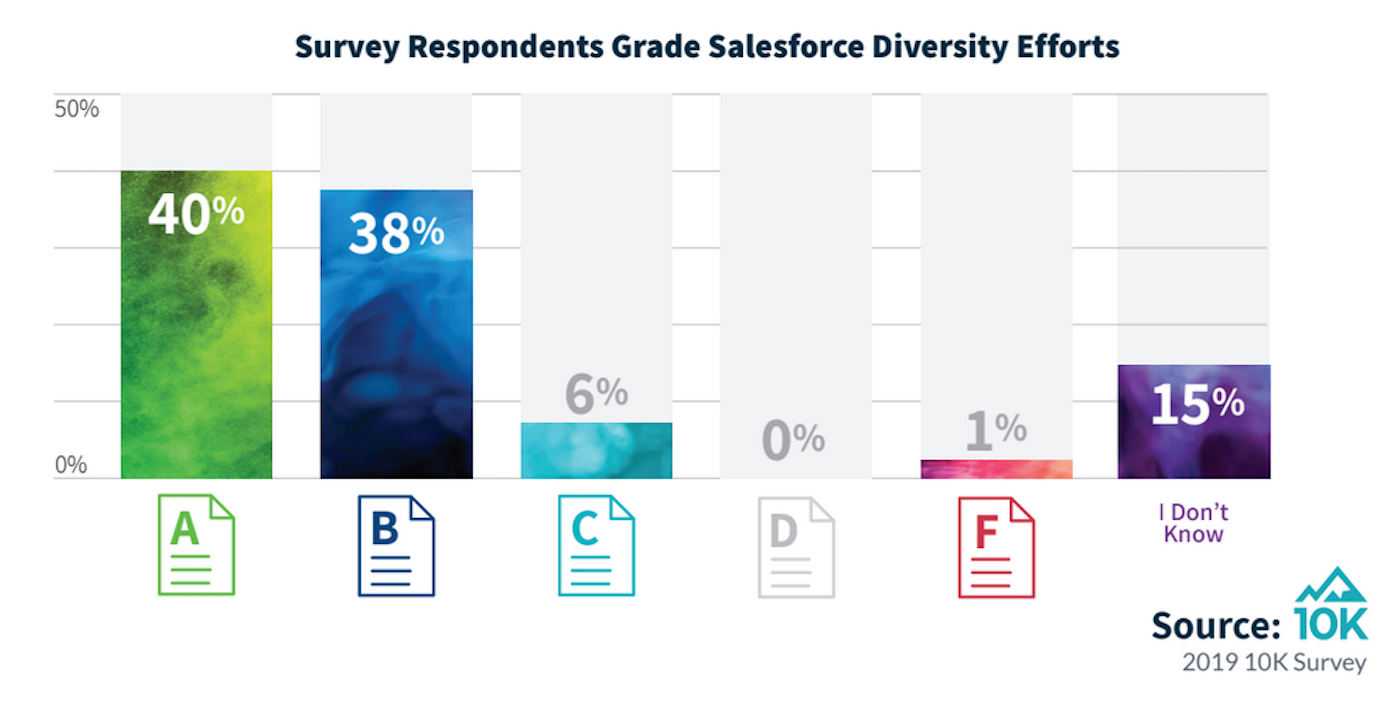 However, our analysis of LinkedIn profiles within North America, Europe, India and Australia/New Zealand, indicates that despite the concerted effort to move the needle on gender equality, the averages remain largely unchanged YoY. Admins continue to have the most gender parity, with the least parity among architects and developers.
These statistics are disappointing, especially when you consider the well-researched benefits of having more diverse teams. However, it also reflects the difficulty of affecting rapid change in gender diversity. This is why it's so important for everyone in the ecosystem, not just Salesforce, to make sure job and revenue opportunities are open to everyone, independent of gender, background or personal preference.
Whether you are a Salesforce customer, partner or freelance consultant, there is plenty of data in here to interest you. Enjoy!